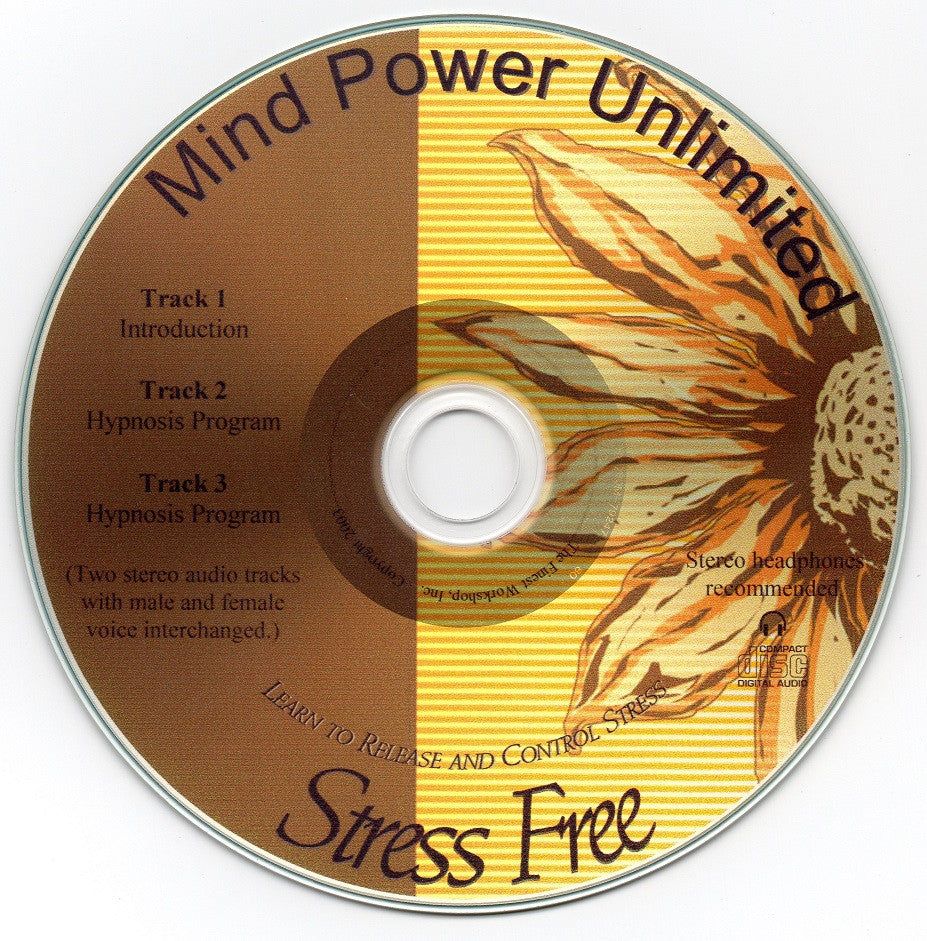 Mind Design Unlimited Online Store
Stress Free - Guided Imagery - Hypnosis Audio Program - Reduce and Control Stress Naturally
Sale price
$14.95
Regular price
$24.95
Guided Imagery / Hypnosis
by
Mind Power Unlimited


Listen to a Sample Below
Has your life become a big ball of stress?
Do you go to bed night after night with too much on your mind?
Are you having trouble making decisions in life?
Are you lacking happiness and joy because of stress and worry?
Have you never really learned to manage stress properly in your life?
There are a myriad of reasons why we never develop stress management skills in our life.  We are taught growing up that stress mostly goes away.  But, most of us realize as we grow older that stress can pile up.  It can clog our conscious and subconscious mind it seems.  Without developing proper coping skills and management, stress can easily rob us of energy, good health, hope, focus, memory and the vital elements required in life.  Stress can become a great burden as it seems to sneak up on us and overtake us when we least expect it. 
With so many current health publications and medical journals linking stress to hundreds of diseases and mental health, we can no longer ignore the impact that stress has in our lives.  There is no justification anymore in allowing stress to complicate our life or lifestyle.  We must take action and responsibility to handle this common problem that loves to have a "Snowball" effect in our lives. 
Stress and Anxiety are the most common psychological reasons for heart attack and stroke today!
The guided imagery and psychoacoustics on this recording are incredibly effective.  Compare this recording to any you may have heard or used in the past and you will find this Audio Program to be one of the most powerful and well produced audio CDs you have ever heard! Hypnosis is quickly becoming the fastest, safest and most effective way to modify your life and habits. Your subconscious is turned on 24 hours a day, 7 days a week, protecting your mind and body from outside threats. Training and strengthening this connection creates an amazing healing effect that you can turn on to heal and maintain your body. This program is very easy to use.  Just listen while relaxing undisturbed once a day. Allowing this program to play while you relax will begin to create and open your mind for an amazing new experience.  Once you use this powerful program, you will feel the immediate effects of the relaxation and find your mind and body reacting in more healthy and optimistic ways.  Try it! 
Your sleep will become more restful and healing.  Your energy will begin to increase.  If you already have good health, this is a great enhancer toward your personal health and fitness.  If you have been ill, this powerful audio program will assist your healing and allow your body to re-energize and build energy. Allow this powerful audio CD to work for you NOW!
What can be imagined, can be achieved!
You are what you think!
About Mind Power Unlimited
Mind Power Unlimited was formerly a self-help company that created excellent products.  Disbanded in the late 90's, Mind Power Unlimited helped many people through direct hypnotherapy in clinical practice as well as through their published products.  Mind Design Unlimited is proud to sponsor Mind Power Unlimited products and continue to distribute them and make them available to those in need.  Mind Power Unlimited continues to represent ground breaking techniques within their recorded works. These timeless masterpieces are sure to help you reach your goals and assist you in achieving the success in life that you deserve.
---
More from this collection