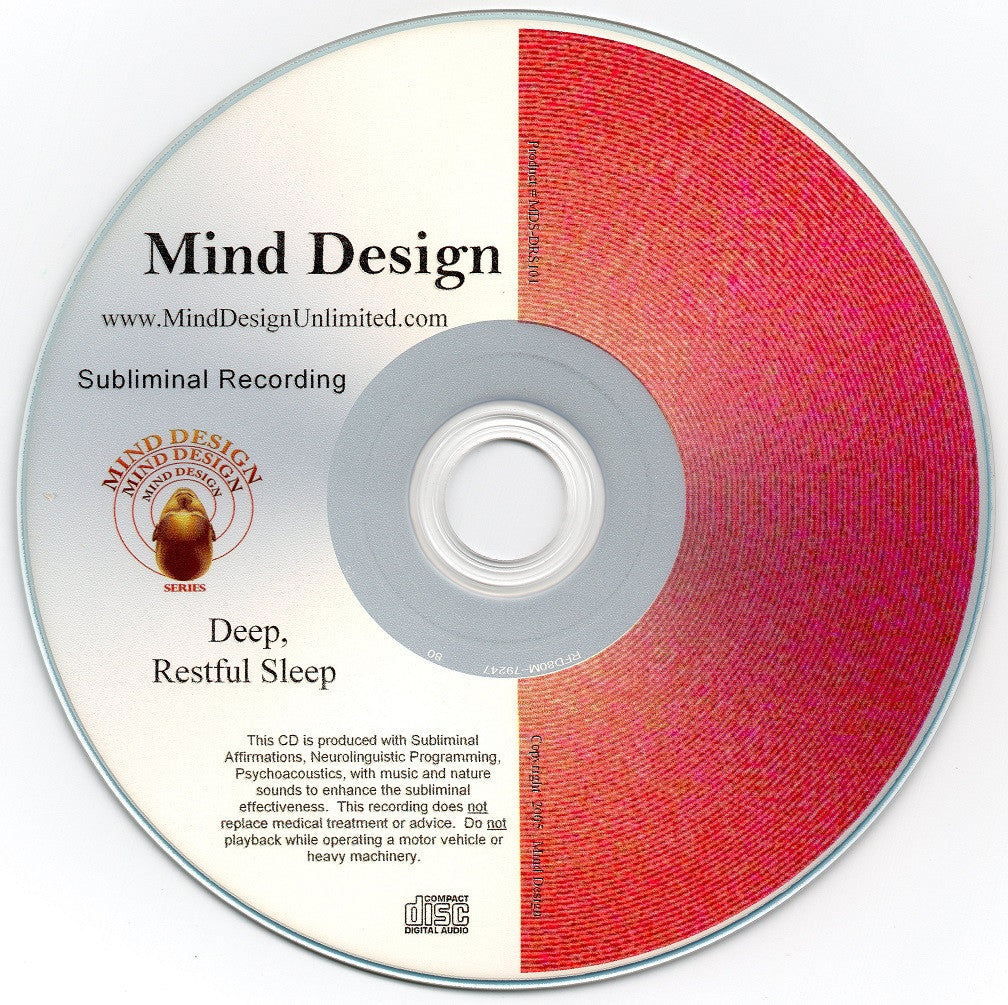 Mind Design Unlimited Online Store
Deep and Restful Sleep - Subliminal Audio Program - Get Better, More Quality Sleep: Naturally!!
Deep Restful Sleep
Subliminal Audio Program
Soothing sounds of ocean waves, gentle music 
and positive subliminal affirmations
combine on this relaxing 
Audio Program to give you a
Deep, Restful Sleep
Suffering from insomnia?
Wake up constantly during the night for no reason?
You get more than 8 hours of sleep, but still wake up exhausted?
 
...Let this Audio Program help you now!
If you are having trouble sleeping,
this Audio Program is for you! 
Deep, restful sleep is vital for our immune system and for a healthy body.  Studies have shown that without appropriate sleep, your body's immunity decreases leaving you more susceptible to illness and disease.  Your body requires healthy sleep and rest in order to adequately function.  Also, without appropriate and restful sleep, work performance slows, attention span decreases, you are more prone to accidents and you suffer from lack of joy and happiness in your life.  Proper sleep is vital for healthy, daily functioning for your personal and professional life.
Your subconscious mind directs your daily life and routine.
You can listen to this Audio Program while resting, sleeping, working around the house or when surfing online (before bed). Meanwhile, your subconscious mind will soak in the powerful subliminal suggestions that will begin to transform you into a healthier, more rested YOU!

The most sophisticated digital recording and processing available today was used in creating this CD for you. The background provides ocean waves and beautiful synthesizer music to enhance your relaxation. You hear no audible words or voices (but they are there). Play this recording over and over again while you relax or prepare for sleep.
 >   Do NOT use this Audio Program while driving or where alertness is required!  <
This Audio Program was developed as part of the Mind Design Series for Best Physical Health, Exercise and Body Immunity.  This enhanced Audio Program relaxes your mind through psychoacoustics and subliminal affirmations.  With this Audio Program, you'll find your routine and patterns of sleep begin to change.  It's important to understand that EVERYTHING about your sleep cycles BEGIN with your mind.  To get appropriate sleep, to relax, to stop your mind from racing, etc... ALL now take a conscious effort on your part.  We help you by cutting out the need for that "willpower".  We create neuromotor pathways that change your cycles of rest and relaxation.  While listening to this Audio Program, you will find yourself dozing off into a peaceful, relaxing sleep, only to wake up feeling rested, clear headed and optimistic!  Don't believe us?   . . . . . . Try it!  
These new neuromotor pathways are the natural occurrence that begins with every new change in your life.  Allow this powerful Audio Program to work for you NOW!
Note:  Even those with a newborn have found this Audio Program to helpful in quieting a baby for sleep and creating a routine for the newborn.  Play this Audio Program at lower volumes when you want the baby to rest and sleep.  Turn it off, when the baby is to be awake and alert.  This can greatly assist you as a new parent to quiet and satisfy a newborn while also getting the rest and sleep you deserve!
Product Sample

Listen to an Audio Sample of one of our Subliminals Below.
This sample is from "Positive Attitude". 
Your Music / Audio Format will Sound Very Similar.
This Audio Program can be used by everyone!
*  *  *
"Great Product!"
*    *   *

"Simply - It WORKS !!!!"
*    *   *

"My appreciation & THANKS to you!!"
*    *    *

"Fast shipping and perfect item ... THANKS! :-)"
*    *    *

"I have been using Mind Design's subliminal CD's over the past several months & have experienced deep and significant changes by listening to them. Sleep is a big issue with Fibromyalgia but I have been a lifelong insomniac & I am sleeping so much better since using this CD & I have tried EVERYTHING! When I start having very occasional sleep problems again I start listening to it again & get back to a reasonable sleep schedule almost immediately."
Sky W.  – Delray Beach, FL
*   *   *
"WONDERFUL SLEEP A++++++++"
*    *    *

"Good deal all the way – thanks"
*   *   *

Audio Program Running time is approximately one hour.
Disclaimer:  If you have serious sleep disturbances or constant insomnia, you may have a diagnosable medical or mental condition that needs professional attention.  Please see a Medical Doctor to possibly diagnose any sleep problems or disturbances that may require professional intervention and/or medication.  In most cases, this CD can still be used in conjunction with medications and professional treatment.  Consult your physician if you have any questions prior to using this CD in conjunction with any medications or treatment they may have prescribed.  This CD is regularly recommended by Healthcare Professionals as an adjunct to medical and psychological treatment.
---
More from this collection