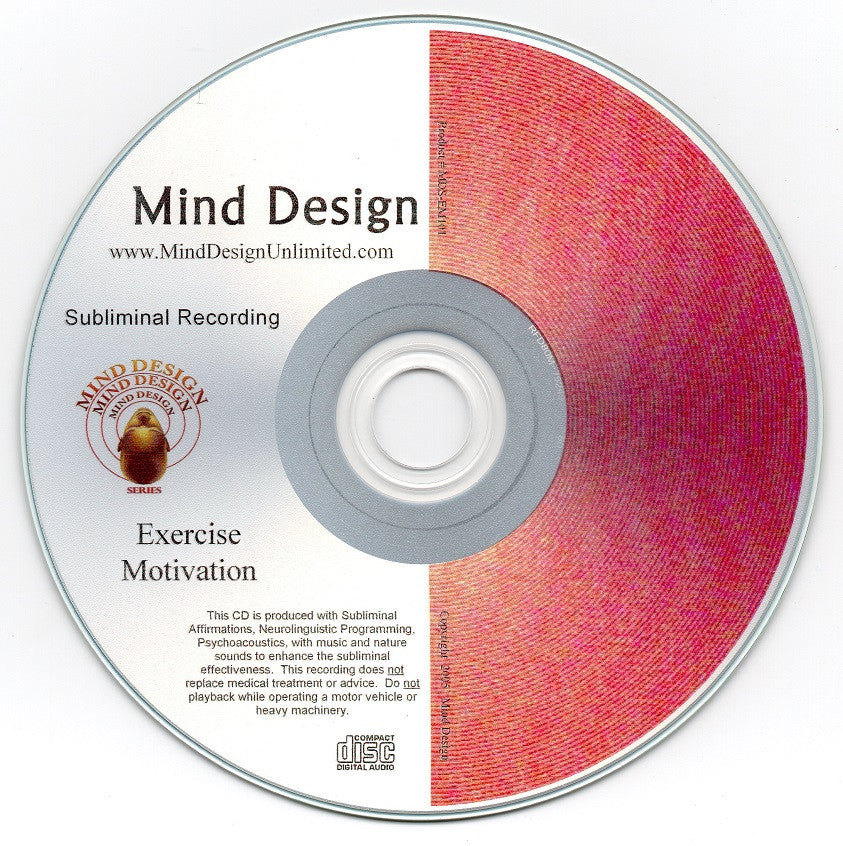 Mind Design Unlimited Online Store
Exercise Motivation - Subliminal Audio Program - Be Motivated and Enjoy Exercise, Naturally!
Exercise Motivation
Subliminal Audio Program


Do you know you need to exercise but you just lack the motivation?
Does it feel like exercise is boring and not worth the effort sometimes?
Do you start an exercise program and then stop never obtaining the full benefits?
Do you enjoy exercise but never feel like there is enough time?
Then allow this Subliminal Audio Program to start helping you now!!

Exercise is still THE most effective way to lose weight and to maintain a healthy figure. 
If you feel too tired to exercise or just don't have the motivation, let this CD work for you.  After listening just a few times, you will find your motivation to exercise increase and your desire to get healthy and fit become a part of your daily life.  Your need to exercise becomes a powerful drive and time for exercise suddenly becomes easier to fit into your life. 
If you want to get into shape and perhaps shed a few pounds in the meantime,this Audio Program is for YOU.
Listen while sleeping, working, playing or exercising. Meanwhile, your subconscious mind will soak in the powerful subliminal suggestions that will begin transforming your body into a more healthy YOU!  This Subliminal Audio Program was produced and created using the most sophisticated digital recording and processing available today.  The background provides ocean waves and beautiful synthesizer music to enhance your relaxation. You hear no audible words or voices (but they are there).  Play this recording over and over again while you sleep, relax or prepare for sleep.
 
Your subconscious mind directs your body's daily
functions and focus.


Use that power to motivate your mind and body with these subliminal affirmations.
 
This Audio Program was developed as part of the Mind Design Unlimited Series for Weight Loss, Exercise and Motivation.  This enhanced Audio Program triggers your mind through psychoacoustics and subliminal motivation.  With this stimulus, you'll find your routine and energy levels begin to change.  It's important to understand that EVERY change in your body BEGINS with your mind.  To lose weight, to diet, to eat less junk food, etc... ALL take a conscious effort on your part.  We help you by cutting out the need for willpower.  We create neuromotor pathways that change your cycles of procrastination and lack of motivation.  These new neuromotor pathways are the natural occurrence that begins with every new change in your life. 
Product Sample

Listen to an Audio Sample of one of our Subliminals Below.
This sample is from "Positive Attitude". 
Your Music / Audio Format will Sound Very Similar.
What people are saying about this Audio Program
*      *      *

"Nice CD and pleasant to listen to.  I felt motivated to exercise starting after the second day of using it.  6 weeks now into it I feel better and I have stuck to my exercise schedule.  I am amazed at how well this product works.  I needed this!!  Thank You Again!"
 *   *   *
"I am 21 pounds lighter and I feel GREAT!!  This CD makes me feel invigorated and optimistic.  I look better and feel better as a result.  I listen to it regularly and I can feel the positive changes it is making.  I would recommend this CD to anyone."
 *   *   *
"GREAT CD!! This has REALLY HELPED ME OUT!!"
 *   *   *
" I do feel more energized and motivated to exercise. I am not sure how this works but it does.  I will be back to buy more CDs."
 *   *   *
"GREAT SOUNDS!! SO RELAXING!!  I sleep with it playing at night and I feel refreshed and energized in the morning.  I went from exercising 1 x per month to 3 to 4 x per week!!  I would say it is working."
 *    *    *
Excellent CD!!
 *   *   *
"My husband and I listen to this CD regularly.  It really got us into the regular habit of exercising.  Now, we walk together and are more active.  Our diet has changed to healthier, more nutritional foods.  I do believe this CD is what has made the changes.  Thank You so much."

*       *       *

        Allow this powerful Audio Program to work for you NOW!
Audio Program Running Time is Approximately One Hour
---
More from this collection