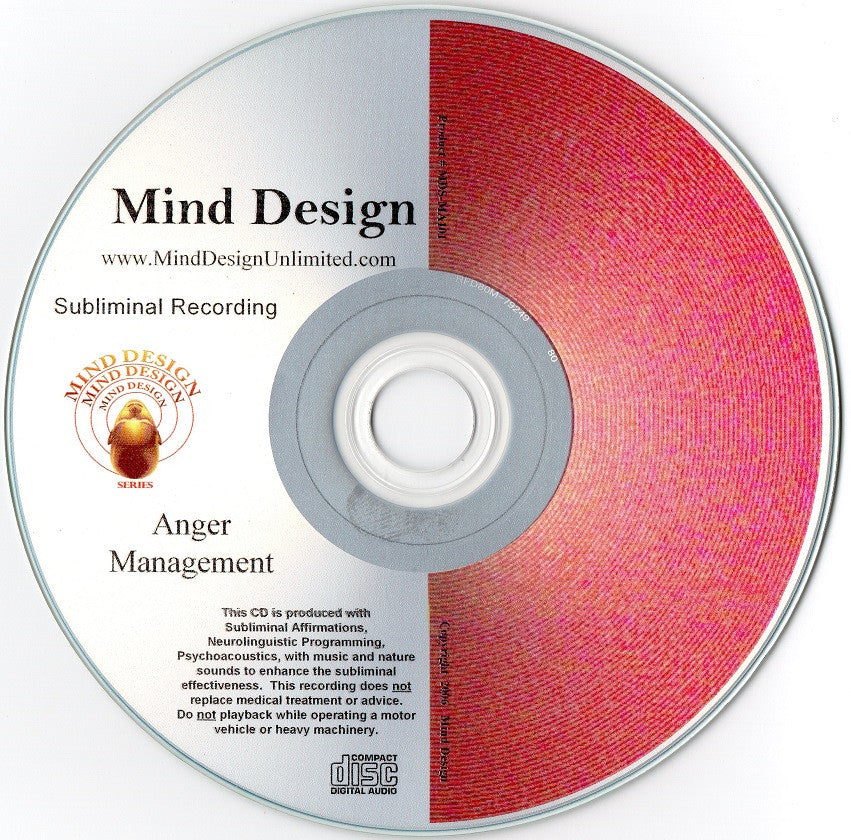 Mind Design Unlimited Online Store
Anger Management - Subliminal Audio Program - Manage Your Anger, Outbursts or Anxiety.
Anger Management

Subliminal Audio Program

This CD is Incredibly Effective for Controlling
and Managing Your Anger.
 Do You Have Difficulty Controlling Your Anger?
Do You Lose Your Temper Easily?
Does the Least Little Thing Set You Off?
Have Others Told You That You May Have Anger Issues?
When Angry, Do You Find It Difficult to Regain Your Own Control and Focus Again?
If so, this Audio Program is for you!!

... Simply listen to this CD while resting, working or playing.  Meanwhile, your subconscious mind will soak in the powerful subliminal suggestions that will begin calming you and reprogramming how you deal with stress, conflict and anger.
This Subliminal CD was produced and created using the most sophisticated digital recording and processing available today. The background provides ocean waves and beautiful synthesizer music to enhance your relaxation. You hear no audible words or voices (but they are there). Play this recording over and over again while you sleep. Your Anger will begin to decrease almost immediately!  This program is great for helping you remain calm, cool and collected even in the most stressful times.
 Product Sample

Listen to an Audio Sample of one of our Subliminals Below.
This sample is from "Positive Attitude". 
Your Music / Audio Format will Sound Very Similar. 


This CD Program is designed to help
(but not limited to):
Manage Your Stress

Control Your Anger More Effectively

Reducing Triggers That Set Off Your Anger

Keeping You More Calm In Stressful Situations

Develop a Calmer Personality

Handling Situations in a More Positive and Rational Way

Reduce Elevating Episodes of Anger

Communicate Your Thoughts and Feelings More Calmly and Efficiently

Avoid Rage or Violent Outbursts

Recognize and Avoid Situations That Can Trigger Anger or Outbursts
Anger can be a very destructive emotion.  It can cause temporary or permanent damage in personal and professional relationships.  People who have never been able to control their anger or perceptions of situations can often get worse when their anger goes untreated over the years.  Anger can build and turn into rage for those who have little control over their emotions.  Ultimately, anger can turn into violence which can result in mandatory court-ordered counseling / therapy, incarceration or even prison terms.  
Violent Outbursts or Rage also is not a good way to reduce or control stress.  Often, anger can become more uncontrollable the more an individual or others allow for it.  Stress Management is a much more effective solution in controlling Anger.  Over time, stress management will help a person cope with their urges toward anger and rage.  Subliminal Programming is also a very effective way to reprogram your subconscious mind and how it interprets trigger situations.  
An Excellent Way to Gain Control of Your Anger
Remember, these are constant affirmations playing in the background under beautiful music and nature sounds.  You will experience no embarrassment while listening to it at work, at home, or around friends and family.  This powerful method will program your subconscious for ULTIMATE Success in controlling your anger and violent outburst!  Changing your subconscious is the BEST WAY to empower yourself and gain control over your emotions, thoughts, feelings and actions.
Audio CD Program Running time is approximately one hour.
 The feedback and responses below are exclusively for this product;
Anger Management Subliminal Audio CD Program
*     *     *

"This has helped me so much!! Thank You.
. . . . . . .

"Excellent product, recommended."
. . . . . . . .

I was at a point of losing my marriage and my job.  This Audio Subliminal somehow kept me calm and reasonable in situations that would normally set me off."
. . . . . . . . .

 "This helped my kids become more calm.  They play more calmly when I keep this CD playing in the background.  Less screaming, crying and temper fits is great!!"  Thanks so much!!"
. . . . . . . .

" I sleep with this CD on.  I awake feeling more confident, in control and focused, unlike before..."

"I wish I could've found this product 10 years ago."
*    *    *
Legal Notice:  We make no therapeutic claims regarding any of our products, including this one.   Since we do not know your psychological or emotional condition we do not consult, diagnose or treat any mental, physical or emotional condition exclusively.  These products are to be used at your own risk.  If you have any questions regarding this product, please contact us directly.  We take all inquiries seriously.   This product is not a replacement for professional medical or psychological treatment.
---
More from this collection