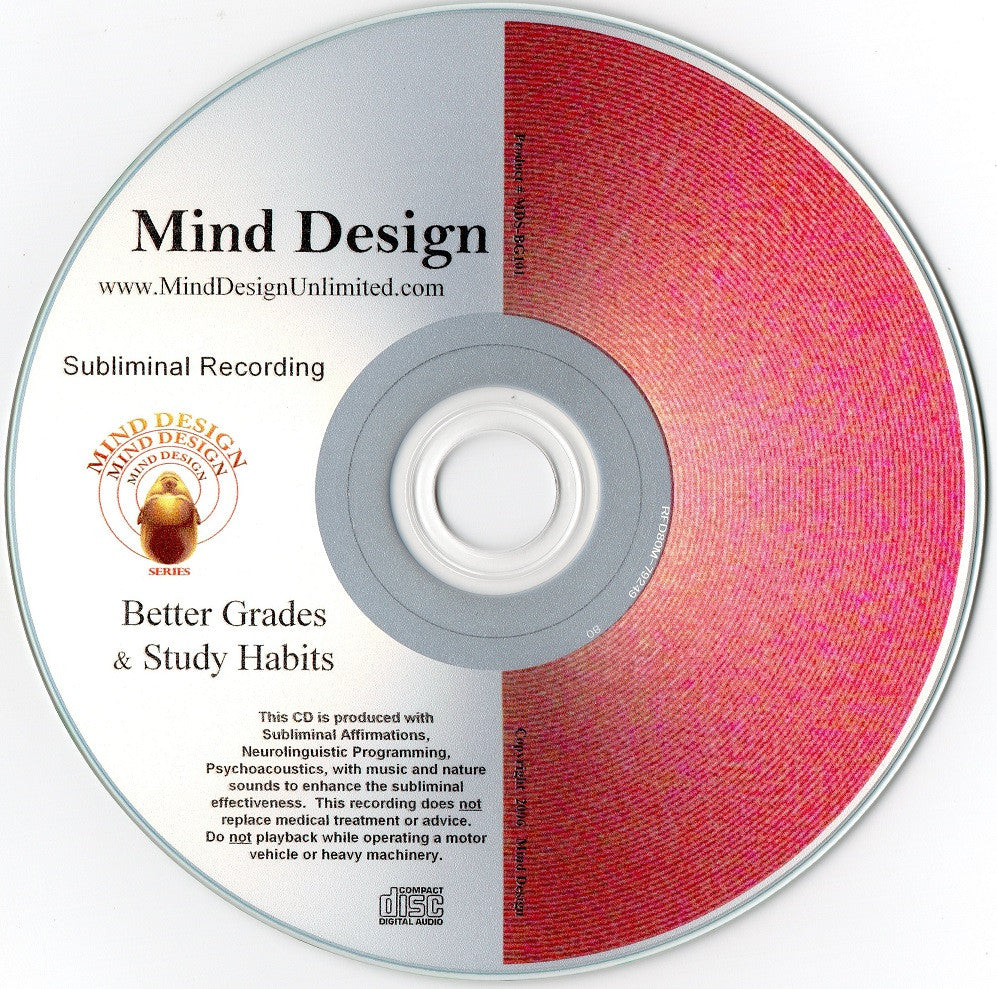 Mind Design Unlimited Online Store
Better Grades and Study Habits - Subliminal Audio Program - Get Better Grades and Be Motived to Study More!!
Better Grades and Study Habits
Subliminal Audio Program
Remember what you study!


Improve your grades!

Do you want to relax more during tests?

Recall information easily in class!
 ...Let this Audio Program help you now!
If you want to improve your grades and study habits, this Audio Program is for you!  A tremendous amount of work and research has gone into creating this powerful Audio.  Studies have shown that with proper preparation and study habits, your grades will greatly improve.   We analyzed A+ students and observed their habits and preparations.  Through much research, we found the key ingredients to their successes.  We compiled all of the common (and not so common) affirmations and programming into this Audio Program.  These subliminal recordings are the best ever produced in the field. You just listen and change.   Try it!
Your Success is OUR Success!
Simply play this Audio Program while studying, resting, working or playing. Meanwhile, your subconscious mind will soak in the powerful subliminal suggestions that will begin transforming you into a better student! 
This Subliminal Audio Program was produced and created using the most sophisticated digital recording and processing available today.  The background provides ocean waves and beautiful synthesizer music to enhance your relaxation. You hear no audible words or voices (but they are there).
Your brain puts information into a category of long or short term memory.  Most studying--especially "cramming"-- only stores information in short term memory.  But, with this Subliminal Audio Program, you will find yourself preparing more easily for tests and storing information in long term memory. 
Some of what you will experience:

You will find yourself wanting to prepare earlier for your upcoming tests.

Your long term memory will improve and become more efficient.

Your desire to study will improve. 

Your retention of important facts and details will improve.

Your anxiety will reduce or disappear completely during class time and during tests and quizzes.
Going to class and sitting through lectures and hours of information will become easier to tolerate.  You will become more organized in your note taking and class preparation!  
Straight A students know the "Secret" to being prepared and successful in class.  Changing your study habits and changing how you prepare for success in class will soon become a part of your school routine. 
>  Do NOT use this CD while driving or where safety or significant alertness is required!  <
This enhanced Audio Program relaxes your mind through psychoacoustics and subliminal affirmations.  You'll find your boring routine and negative thought patterns about class and grades begin to change.  It is important to understand that EVERYTHING about your thought process, life and routine BEGIN with your mind.  Before, to achieve proper and healthy optimism, to relax or to stop your mind from racing negatively, etc... ALL took a "conscious" effort on your part.  We help you by cutting out the need for that "willpower".  We create neuromotor pathways that change your cycles of negativity and anxiety.  You will be more optimistic about studying, going to class, taking tests and making good grades.  You will have peaceful and relaxing sleep, only to wake up feeling rested, clear headed and optimistic about your tests, classes and course work!  Don't believe us?    Try it! 
Certified Clinical Hypnotherapist, Christian Flint uses his unique expertise as a sound engineer and musician and the knowledge he acquired through his Masters Degree in Mental Health Counseling to create this powerful Audio Program for you.
Product Sample

Listen to an Audio Sample of one of our Subliminals Below.
This sample is from "Positive Attitude". 
Your Music / Audio Format will Sound Very Similar.
 ________________________________________________________________________
Feedback and comments below are specifically for this product
Better Grades and Study Habits Subliminal Audio CD Program
*   *   *
"Really Seems to work!"
"Just as described. Thanks again!!!"
"Outstanding results almost immediately!! Will watch for other CD's to buy! WOW!!"
"Great product as described, Fast Shipping, Highly Recommend, A+++"
"Truly fantastic!!"
"I feel my brain getting bigger by the minute :)"
"Great Product!  Excellent!"

*      *      *
Allow this powerful Audio Program to start working for you!
Note:  This Audio Program has been used very successfully by students of all ages!  It has been highly recommended by teachers and professors from all areas of education.  Teachers constantly complain about students who have poor attention span, and who are unprepared and uninterested.  We have researched the top advice given by excellent teachers and professors.  This advice and support has been integrated into this powerful Audio Program as affirmations and Neurolinguistic Programming [NLP].
This Audio Program can be used by everyone!
*  Audio Program running time is approximately one hour.
---
More from this collection