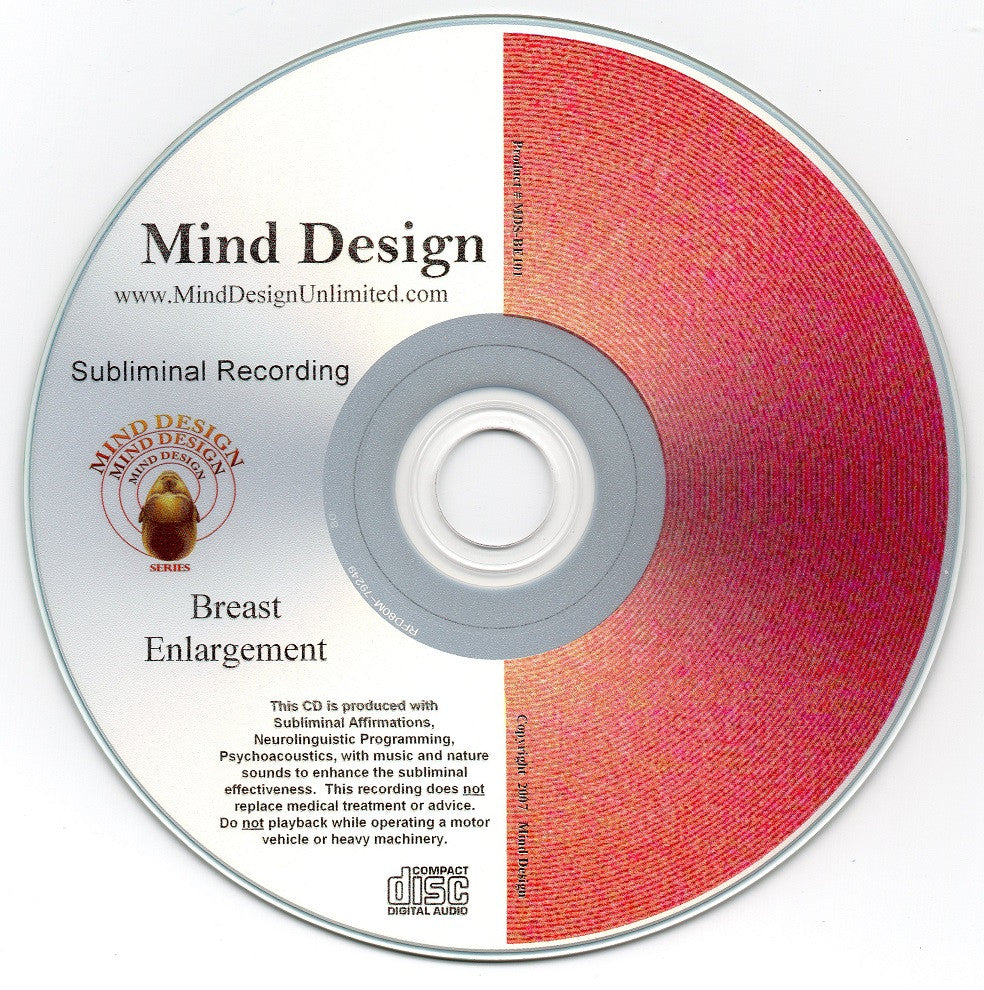 Mind Design Unlimited Online Store
Breast Enhancement - Subliminal Audio Program - Enlarge and Enhance Your Bust Size Naturally!!
Breast Enlargement / Enhancement

Subliminal Audio Program
Enlarge and Shape
Your Breasts Naturally!!


Would you like nicer, firmer, fuller breasts?
Have you wanted larger breasts and would prefer to avoid surgery?

Have you thought about increasing
your breast sizeand shape?
Do you enjoy working out but there is not enough time to sculpt and shape your ideal breasts?
Would you like to increase your breast size and firmness, even while you sleep?
Then allow this Subliminal Audio Program
to start helping you now!!

One of the most common questions we get about this Audio Program is:  
"Is it REALLY POSSIBLE to increase breast size and shape
simply by listening to a CD?!?"
The Answer is simply: YES!! 
And, we can explain how!!
Your body has regular blood flow.  Throughout your body, day and night, healthy oxygen is carried through your bloodstream to all the extremities of your body.  As we age, blood flow becomes more restricted.  Without regular blood flow, healthy hydration and oxygen, our internal and external organs begins to age and work less effectively.  Our skin loses its elasticity.  And, even our muscles lose tone and flexibility.
With focused blood flow into the breasts, healthy blood and oxygen are carried to build and develop new cellular structures and foundations within the breasts.  Even the skin is more resistant to aging.  By allowing this audio program to play while you sleep, eat, relax or work, blood flow becomes more active, doing its job to shape, increase and enhance bust size.
Yes, YOU CAN MAKE A DIFFERENCE in Your Bust Development and Enhancement!
PsychoAcoustics and Subliminal Programming are QUICKLY reshaping the way we live, think and perform.
Listen to this Audio Program while sleeping, working, playing or exercising.  Meanwhile, your subconscious mind will soak in the powerful subliminal suggestions that will begin transforming your body into a healthier YOU!  This Subliminal Audio Program was produced and created using the most sophisticated digital recording and processing available today.  The background provides ocean waves and beautiful synthesizer music to enhance your relaxation. You hear no audible words or voices (but they are there).  Play this recording over and over again while you sleep, relax or prepare for sleep.
 
Your subconscious mind directs your body's
daily functions and focus.


Use that power to motivate your mind and body
with these subliminal affirmations.
We understand anyone's skepticism about this program.   As a matter of fact it almost does not make common sense that breast size and shape can develop by listening to an audio program.  But, before you become too skeptical you should know this.  Hypnosis in increasing breast size and development has been long known to be effective for many women who want larger, fuller healthier looking breasts.
Hypnosis also uses the power of the subconscious mind.  Hypnosis is very closely related to subliminal affirmations and programming.  We know through published research that breast size can be increased by drawing blood and circulation into those areas.  Even like most any sexual organ can enlarge with blood flow, breasts are no different in their physiological responsiveness.  Furthermore, breast tissue can develop and become healthier through more routine oxygenated blood circulation.  Natural Breast Enhancement and Growth is much safer than surgical procedures to modify the human body.  
 
This Audio Program is designed to help you relax and subconsciously draw healthy circulation into the breasts.  Breasts will often begin to tingle and swell in the beginning stages of change.  This is one of the signs it is working.  Additionally, you should feel more warmth and a moderate temperature change in and around the breasts.  This also denotes that the breasts are increasing in circulation. .  
This powerful program can make a safe, fast and effective change as you listen regularly to this Audio Program.  The psychoacoustics are used to program the parts of the brain that develop long term change and patterns.  These Neurological Pathways develop changes physiologically with blood flow and circulation in specific areas in and around the breasts.  
This Audio Program was developed as part of the Mind Design Unlimited Series for Health and Beauty.  This enhanced CD triggers your mind through psychoacoustics and subliminal motivation.  With this stimulus, you will find your routine and energy levels begin to increase dramatically.  It is important to understand that EVERY change in your body BEGINS with your mind.  To lose weight, to gain weight, to exercise, to diet, to eat less junk food, etc... ALL take a conscious effort on your part.  We help you by cutting out the need for willpower.  We create neuromotor pathways that change your cycles of procrastination and lack of motivation.  These new neuromotor pathways are the natural occurrence that begins with every new change in your life. 
Product Sample

Listen to an Audio Sample of one of our Subliminals Below.
This sample is from "Positive Attitude". 
Your Music / Audio Format will Sound Very Similar. 

What people are saying about this Audio Program
*      *      *

"WOW!!!  All I can say is WOW!!!"
Jeannie P.
AR
 *    *    * 
"OK.  You made my husband a believer and a MUCH happier man!!
Sharon.
NM
 *    *    * 
"Yup. Just like you said.  The tingling started.  Then the warming sensations.  Then the size increased nicely.  Two cup sizes and I am going for one more.  You do have to listen very often, but it is possible."
Angie B.
WY
 *    *    *
"This is Amazing!  I am really now a believer in these products.  I never dreamed something like this could work for me.  Thanks so much."
Carol D.
VA
 *     *     *
"I bought this for my wife as a "gag gift" from another website.  She seriously started using it and it works!  The results are noticeable at this point.  I thought she was joking at first.  I guess the joke was on me!!"
Michael R.
NH
*       *       *

        Allow this powerful Audio Program
to work for you NOW!
Audio Program Running Time is Approximately One Hour
Legal Disclaimer:   We do not diagnose, treat or consult any individuals personal condition.   Use this product only as directed.  We make no extraordinary claims about this or any of our products.  Use at your own risk.  
---
More from this collection