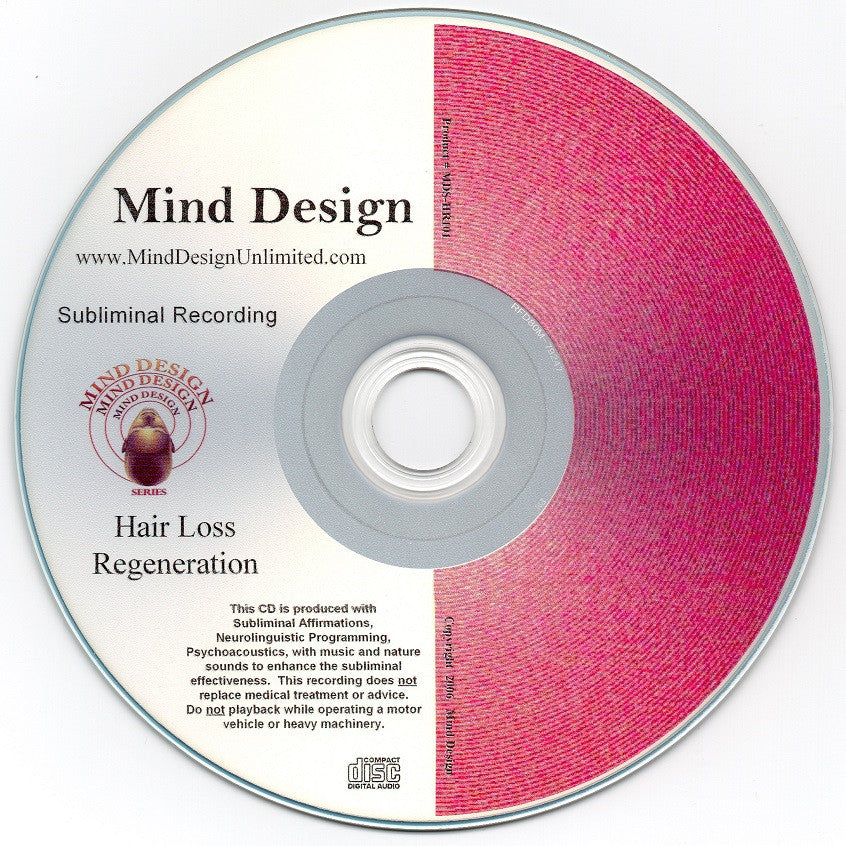 Mind Design Unlimited Online Store
Hair Regeneration - Subliminal Audio Program - Grow and Regenerate Hair Naturally!
Hair Regeneration
Subliminal Audio Program
Welcome!! 
This is probably the Subliminal Audio Program you heard about on several blogs and websites!!  This Audio Program has worked for MANY people suffering from hair loss and it can work for you also!!
Are you suffering from Male Pattern Baldness?
Are you now starting to lose hair as you age?
Is your hair thinning despite what actions you take?
Then this Subliminal Audio Program is for YOU!!

Studies show that male (and female) pattern baldness (while mostly genetic) can be reversed with special stimulus to the brain. The subliminal messages in this Audio Program were created to reactivate the blood flow to the scalp and stimulate the cells to regenerate and build new hair growth.
Listen to this Audio Program while resting, working or playing.  Meanwhile, your subconscious mind will soak in the powerful subliminal suggestions that will begin transforming your appearance. 
Your hair will begin to reappear and thicken within a few days of listening. Use this Audio Program as directed and watch the hair begin to reappear!  You'll be growing new hair even while you sleep.   If you already have thinning hair, this is a great enhancer to regenerate a thicker, fuller head of hair.  If you have had hair loss and baldness for a number of years, it takes a while to regenerate blood flow and cell growth within the scalp.  But be patient. This powerful audio program will assist your hair in regenerating from the roots.  It can effectively allow your scalp to re-energize and build a firm foundation for new hair growth.
This Subliminal Audio Program was produced and created using the most sophisticated digital recording and processing available today.  The background provides ocean waves and beautiful synthesizer music to enhance your relaxation. Play this recording over and over again while you sleep, work or relax.
Product Sample

Listen to an Audio Sample of one of our Subliminals Below.
This sample is from "Positive Attitude". 
Your Music / Audio Format will Sound Very Similar.
Allow this powerful Audio Program to work for you NOW!
Below are reports from buyers who have used this Audio Program

*      *      *

"…CD appears to be working!"
*     *     *

"Fast shipping  -  Relaxing cd!  By 2nd day felt my scalp tingle. Now seeing sprouts of hair that were not there before.  Highly recommend A+"
*     *     *

"item as stated, very relaxing , would buy from again. Thank You"
*    *    *

"...Great item. A++++++"
*   *    *

"There is now more hair on my head! I cannot believe this! It is really working!"

*     *     *


>  Caution:  Do NOT listen while driving or when alertness is important!  <
To help fight the signs of aging, this CD works great in conjunction with
Mind Design Unlimited's
Skin Rejuvenation
Lower Blood Pressure
Exercise Motivation and

Best Physical Health
Subliminal Audio Programs.
Running time is approximately one hour.
---
More from this collection