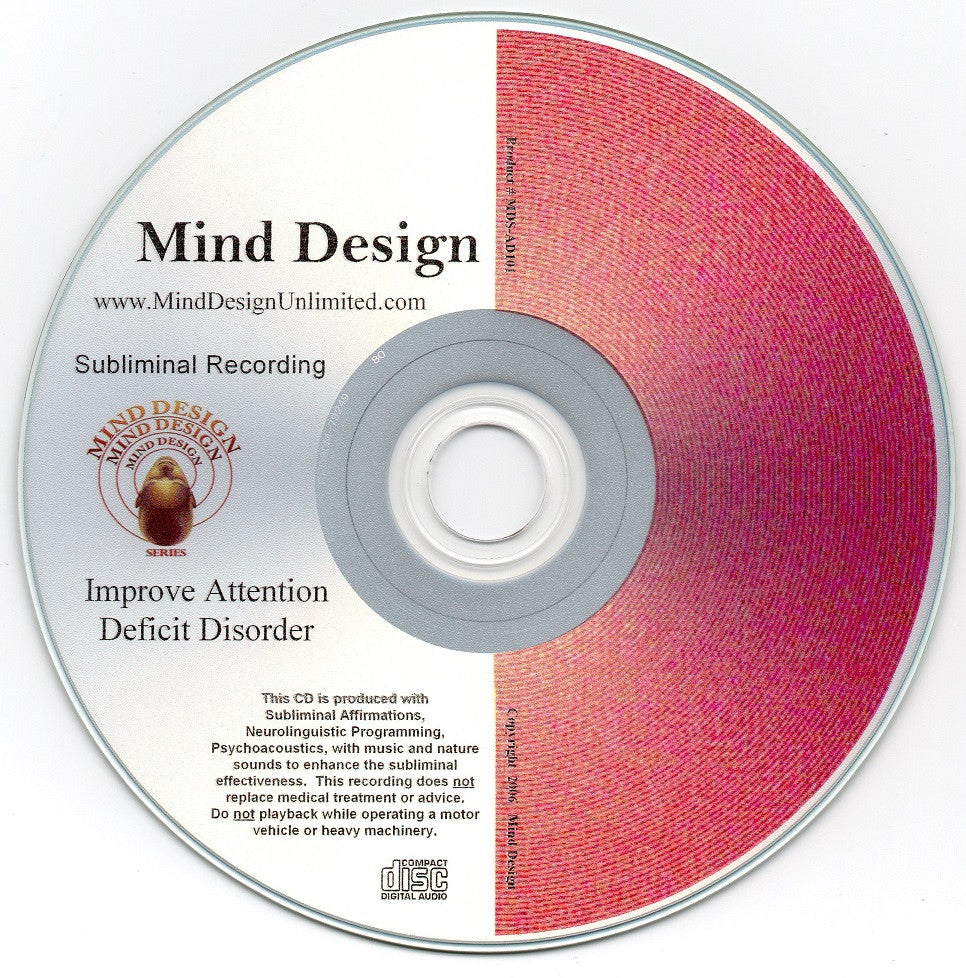 Mind Design Unlimited Online Store
Improve Attention Deficit Disorder ADD / ADHD - Subliminal Audio Program - Control ADD / ADHD Symptoms More Naturally
Improve Attention Deficit Disorder
ADD / ADHD
Subliminal Audio Program
Buy now to:
Improve your attention span  *  Remember what you learn
Enhance your memory  *     Relax during tests
Recall information easily   *    Sit still during class
Remain comfortable in most any setting
Keep your mind from wandering....

...let this Audio Program help you now!
How?
 
Simply listen while studying, resting, working or playing. Meanwhile, your subconscious mind soaks in the powerful subliminal suggestions that will begin transforming you into a more focused YOU!  This Subliminal Audio Program was produced and created using the most sophisticated digital recording and processing available today.  The background provides ocean waves and beautiful synthesizer music to enhance your relaxation. You hear no audible words or voices (but they are there).  Play this recording over and over again while you sleep, relax or prepare for sleep.
A tremendous amount of work and research has gone into creating this powerful Audio Program.  Studies have shown that ADD responds well to subconscious affirmations and suggestions for focusing attention. Through devoted research, we found the key ingredients to improving ADD and ADHD is by opening neural pathways.  With opening and expanding (training) these neural pathways, your mind begins to react differently to outside stimulus.  Your mind is able to focus more on a singular task and devote its attention to what is important.  Without training these areas, the mind may wander aimlessly from one thought to the next, without being able to focus on the important information being presented.  This makes it harder for your mind to learn and store information. 
"Fragmenting" is a symptom of ADD and ADHD (Attention Deficit Disorder or Attention Deficit Hyperactivity Disorder).  It is where the brain picks up only portions of information.  Unfortunately, without training the mind how to learn and partition information, it stores too much eclectic information that often is more useless than useful.  By improving your attention span and focus, you will remember more of what is important and necessary, making learning and retention easier. 
We have compiled very powerful, direct affirmations and programming into this Audio Program.  These subliminal recordings are the best ever produced in the field.

Certified Clinical Hypnotherapist, Christian Flint uses his unique expertise as a sound engineer and musician, and the knowledge he acquired through his Masters Degree in Mental Health Counseling to create this powerful Audio Program for your benefit!

Your Success is OUR Success!
Your brain puts information into the category of either long or short term memory.  Most learning only goes into short term memory.  (Thus, cramming for tests is often a popular choice for students. ) 
It is also well known that those with ADD (or ADHD) often have higher intelligence.  Those with a higher IQ crave constant learning and stimuli.  Also, information retention is often above average for those with ADD.  However, it is the negative symptoms of the disorder that require treatment. 
Symptoms of ADD / ADHD can include
(but not limited to): 
Inability to sit still
Inability to focus on a single task
Inability to start and finish a task within a reasonable time frame
Lack of self-confidence
Lack of self-esteem
Inability to conform to normal routines or expectations
Gets sidetracked easily
Inability to verbalize thoughts clearly and concisely
Feelings of being "overwhelmed" even with simple requests
Feelings of depression, anxiety and stress
This Subliminal Audio Program is designed to deal with the various symptoms arising from ADD (and ADHD) as well as treating  the very core of the deficit.  In order for your mind to change a pattern, it must be reprogrammed.  Reprogramming your subconscious is vital to changing and improving this deficit.
Also For Students:  With this Subliminal Audio Program you will find yourself preparing more easily for tests and retaining information that you haven't been able to before.  You will find yourself wanting to prepare earlier for your upcoming tests.  You will be more focused on the material (not having to read it over and over to remember it).  Your "long term memory" will be engaged.  Your desire to study will improve.  Your retention of important information will improve. 
Going to class and sitting through lectures and hours of information will become easier to tolerate.  You will become more organized in your note taking and class preparation! 
Straight A+ students know the "Secret" to being prepared and successful in class.  Changing your study habits and changing how you prepare for success in class, will soon become a part of your routine in school. 
Allowing your subconscious mind to be engaged and trained for retention is the quickest and most effective way to make better grades.
Your subconscious mind directs your daily life and routine. 
>   Do NOT use this Audio Program while driving or where safety
or significant alertness is required!   <
This Audio Program was developed as part of the Mind Design Unlimited Series for Improving Your Life.  This enhanced Audio Program relaxes your mind through psychoacoustics and subliminal affirmations.  With this Audio Program, you will find your inability to focus and complete a task decrease greatly.  You will enjoy more focus, more clear and concise memory, less boredom with classes and learning, and the ability to recall special information necessary when needed.  You will gain more confidence about your own personal memory retention.  You will become excited about learning new things! You will feel more comfortable when presented with new information.  As your memory improves, you will find it easier to interact with others who rely on your memory and mental abilities. 
It is important to understand that EVERYTHING about your thought process, life and routine BEGIN with your mind.  Before, to achieve proper and healthy optimism, to relax or to stop your mind from racing negatively, etc... ALL took a "conscious" effort on your part.  We help you by cutting out the need for that "willpower".  We create neuromotor pathways that change your cycles of negativity and anxiety.  While listening to this CD, you will find yourself becoming more optimistic about improving your memory, social interactions, business  and job requirements, going to class, taking tests and making good grades.  You will have peaceful and relaxing sleep, only to wake up feeling rested, clear headed and optimistic about your day!  Don't believe us?  Try it!  
These new neuromotor pathways are the natural occurrence
that begins with every new change in your life. 
Allow this powerful Audio Program to work for you NOW!
Note:  This Audio Program has been used very successfully by people of all ages!  It has been highly recommended by doctors, psychologists, mental health professionals, teachers and professors from all areas.  Teachers constantly complain about students who have poor attention span, and who are unprepared and uninterested.  We have researched the top advice given by excellent teachers and professors.  This advice and support has been integrated into this powerful Audio Program as affirmations and Neurolinguistic Programming [NLP].
A recent Television Special showed 8 individuals with ADD.  The premise was to understand their behaviors and modify their behaviors and deficits to help them focus and develop more self control (mental, physical and emotional).  The therapy was devoted to using no medications as treatment.  The treatment was strictly behavior modification based as well as unlearning and relearning certain patterns and behavior traits. (Some dietary modifications and exercise was implemented also.)  It was made clear by the end of the program that without changing patterns of behavior and learning new ways and modalities of "learning," these individuals would suffer relentlessly throughout their entire life.  Most of them getting worse as time goes on.  By changing their behaviors and utilizing special reinforcement techniques, their lives improved dramatically.  And, changing the subconscious is the first (and most necessary) step in changing and improving Attention Deficit Disorder.
University Studies have proven that subliminal programs can be incredibly effective in changing and improving an individual's quality of life.
Product Sample

Listen to an Audio Sample of one of our Subliminals Below.
This sample is from "Positive Attitude". 
Your Music / Audio Format will Sound Very Similar.
__________________________________________________
Below are some feedback concerning this particular product     
Improve Attention Deficit Disorder Subliminal Audio Program
*   *   *
"Some my most hyper students say it calms them down to focus. Thank you!!!!!!"
*    *    *

"We got this CD and we loved it, my daughter showed almost immediate results. She showed so much improvement and had only listened to it a few times. I have to admit I was more than a little skeptical but after seeing the results of just the few times she listened to it I am totally impressed!... I am an Anxious Mom no more!!… Again, Thank you SO MUCH!!!! Happy Mom ;0)"
*     *    *

"Absolutely Perfect!!... Just as described! Thanks so much!! =)"
*    *    *

 "Great edge to help with school work!!! Super Seller has been great to deal with!!!"
*     *     *

"Excellent delivery time awesome service will gladly do business again"
*     *    *

 "Quick ship...Product as advertised.....Will buy from again!!!!"
_______________________________
Running time of this Audio Program is approximately one hour
---
More from this collection