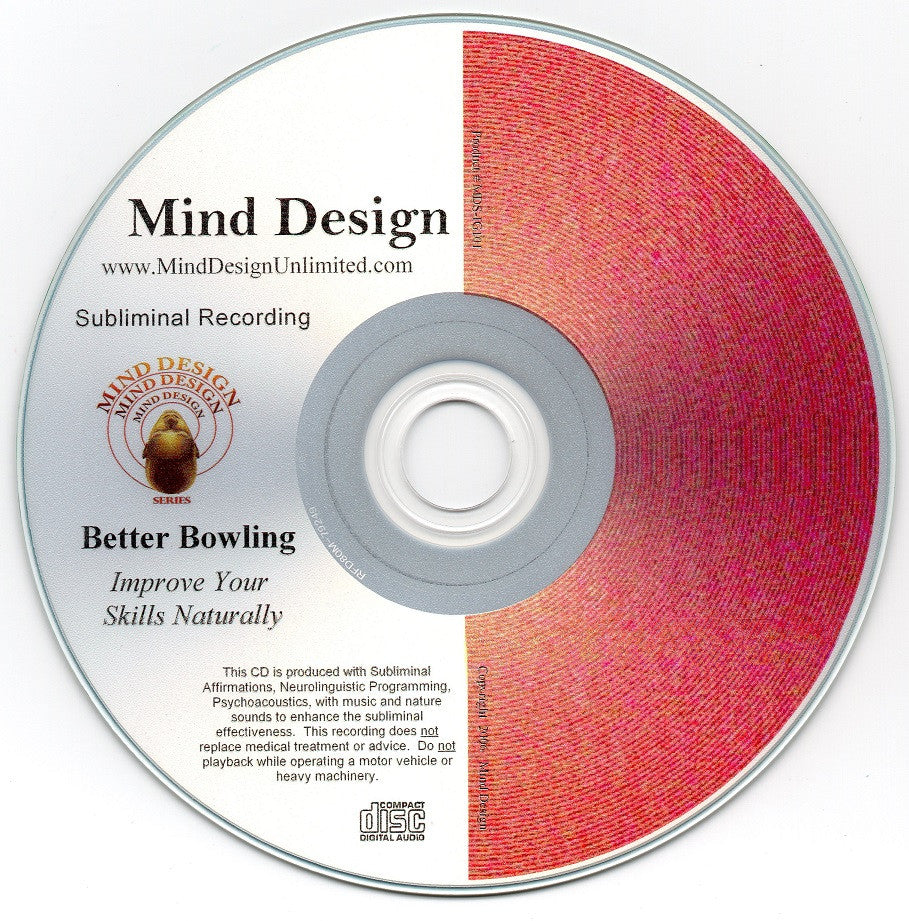 Mind Design Unlimited Online Store
Improve Your Bowling Skills - Subliminal Audio Program - Better Bowling Naturally
Better Bowling Skills Naturally
Subliminal Audio Program
Listening to this Audio Program is incredibly effective for improving your Accuracy, Control and Precision to Improve Your Bowling Game!
 Listen while resting, working or playing.  Meanwhile, your subconscious mind will soak in the powerful subliminal suggestions that will begin transforming you into an INCREDIBLE Bowler! 
Whether you are already a professional and skilled player, or whether you are just getting your game started, this Audio Program is for you!
This Subliminal Audio Program was produced and created using the most sophisticated digital recording and processing available today.  The background provides ocean waves and beautiful synthesizer music to enhance your relaxation. You hear no audible words or voices (but they are there).  You can play this recording over and over again while you sleep, relax or prepare for sleep. Your tennis game will begin to improve almost immediately!  This program is great for increasing your concentration and confidence on the court as well.
Certified Clinical Hypnotherapist, Christian Flint uses his unique expertise as a sound engineer and musician and the knowledge he acquired through his Masters Degree in Mental Health Counseling to create this powerful Audio Program for your benefit.
Improve your Bowling Skills Naturally!!
You will feel more confident about your bowling game.  If you already are a good bowler then this is a great enhancer toward bettering your overall skills.  If you have fallen into a rut, this powerful audio program will assist you in getting your game back into action and to re-energize your play.   Allow this powerful audio program to work for you NOW!
 Product Sample

Listen to an Audio Sample of one of our Subliminals Below.
This sample is from "Positive Attitude". 
Your Music / Audio Format will Sound Very Similar.
Below are feedbacks directly about this product from buyers:
"You have a great product here.  It really did improve my game."
Roy B.
OK
 *     *     *
"My wife and I have been using this product for just only two weeks now.  Both our games have improved dramatically.  We are really impressed."
Virgil and Cathee W.
AL
*     *     *
"I am a tournament bowler.  I have never found anything better than this.  It has improved my game and my consistency.  I bowl better than I ever have before.  If my game is starting to slip a bit, I just listen to this CD a few times and I am right back in.  Really nice."
Jim A.
NY
 *     *     *
"After using this CD for less than one month I bowled my first perfect game.  This is a winner!!  I am afraid to tell my friends about it because they might catch up with me. LOL."
James K.
MS
 
*    *    *

This Subliminal Audio Program is designed to help (but not limited to):
Bowl with Better Accuracy and Precision

Cleaner, Stronger Delivery

Better Control Over the Bowling Ball

More Confidence in the Lanes

More Accurate Form and Release

More Endurance in the Game

More Focus

More Strategic Bowling
_____________________________________________________________
Buy it for yourself or someone you love!
>   Do NOT use this Audio Program while driving
or where alertness is required!  <
This is even a great gift idea for the Novice or Professional Bowler!!
           Subliminal Audio Program Running time is approximately one hour.
---
More from this collection