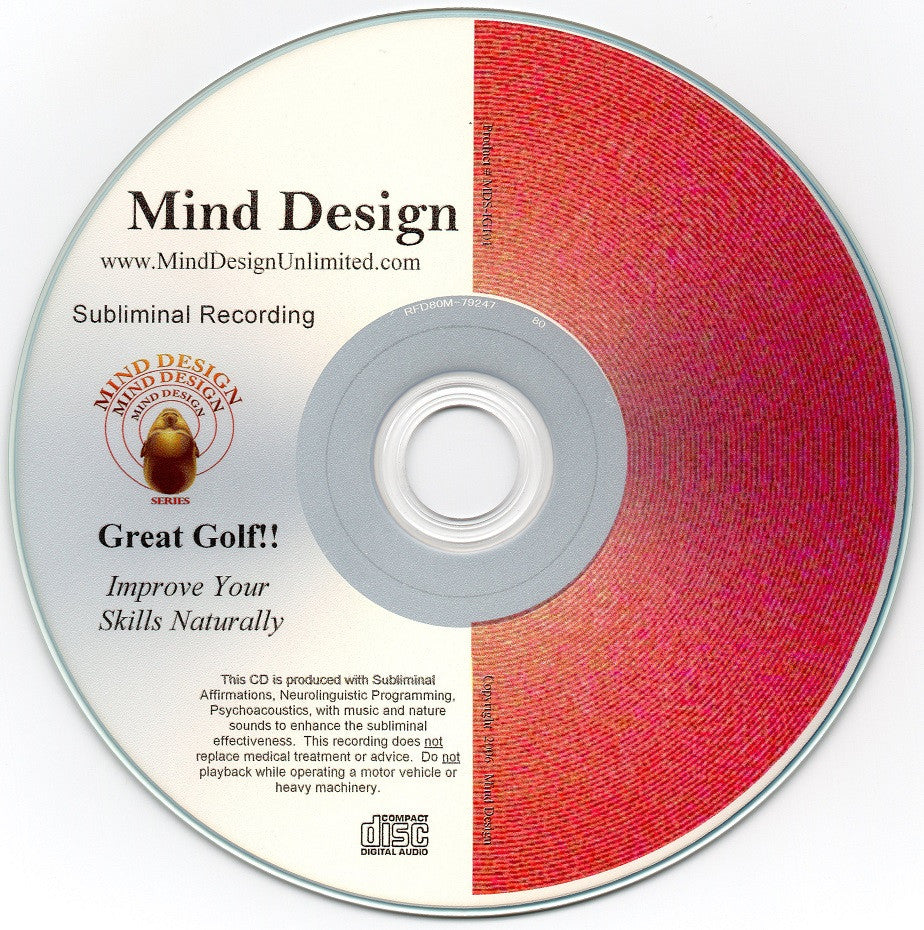 Mind Design Unlimited Online Store
Improve Your Golf Game - Subliminal Audio Program - Enhance Your Golf Skills and Better Your Game
Improve Your Golf Skills Naturally
Subliminal Audio Program
Listening to this CD is incredibly effective for Improving your Golf Game!
You can listen while studying, resting, sleeping, working, or even surfing online.  Meanwhile, your subconscious mind soaks in the powerful subliminal suggestions that will begin transforming you into an INCREDIBLE golfer! 
Whether you are already a professional and skilled player, or whether you are just getting your game started, this Audio Program is for you!
This Subliminal Audio Program was produced and created using the most sophisticated digital recording and processing available today.  The background provides ocean waves and beautiful synthesizer music to enhance your relaxation. You hear no audible words or voices (but they are there).  You can play this recording over and over again while you sleep, relax or prepare for sleep. Your golf game will begin to improve almost immediately! This program is great for increasing your concentration and confidence on the course as well.
You will feel more confident about your game.  If you already have a good golf game, this is a great enhancer toward bettering your overall skills.  If you have fallen into a rut on the course, this powerful audio program will assist you in getting your game back into action and to re-energize your play.   Allow this powerful Audio Program to work for you NOW!
WOW!  What great help on the GOLF COURSE!
Product Sample

Listen to an Audio Sample of one of our Subliminals Below.
This sample is from "Positive Attitude". 
Your Music / Audio Format will Sound Very Similar.
Below is a list this Audio Program is designed to help (but not limited to): 
More Putting Precision

Longer, Straighter Drives

Better Control Over the Golf Ball

More Confidence on the Course

More Accurate Swing

More Accuracy in the Fairway

Choosing the Right Club for the Job

Relax on the Course

Reading Distance

Reading the Green More Accurately
_____________________________________________________ 

See what buyers are saying about this product...
 *    *    *
"Great Product. I am down about 7-10 strokes per round. Thanks"
 *     *     *

"After listening to this CD one time, my daughter improved her game by 9 strokes!"
 *     *     *

"good transaction product works great THANKS !!!!!!!!"
*     *     *

"Fast Delivery, great sounds, very relaxing and it WORKS"
 *     *     *

"Works as well!"
 *     *     *

"...my practice game is improving."
 *     *     *

"This item helped me take 8 strokes average off my game in only a month!!"
 *     *     *

 "Super item !!!!!"
 *     *     *

"Another outstanding product!!! Fast shipper, a pleasure to do business with!!!"
 *     *     *

"Very quick delivery Awesome product"
 *     *     *

"Great item, great seller."
*     *     *
 "Excellent transaction and happy with disc will buy again from Australia"
*     *     *
"Quick shipping, excellent sound quality, pleased with purchase"
*     *     *
"Received very quickly. very good experience,"
*     *     *
"Very fast shipment, happy customer, thank you!
*      *     *
"Thanks, item as described, A+"
*      *     *
"Great A ++++"
*    *   *
>   Do NOT this Audio Program while driving or where alertness is required.    <
Buy it for yourself, or someone you love!
This is a great gift idea for the Golfer who has EVERYTHING!
This Subliminal Audio Program Running time is approximately one hour.
---
More from this collection