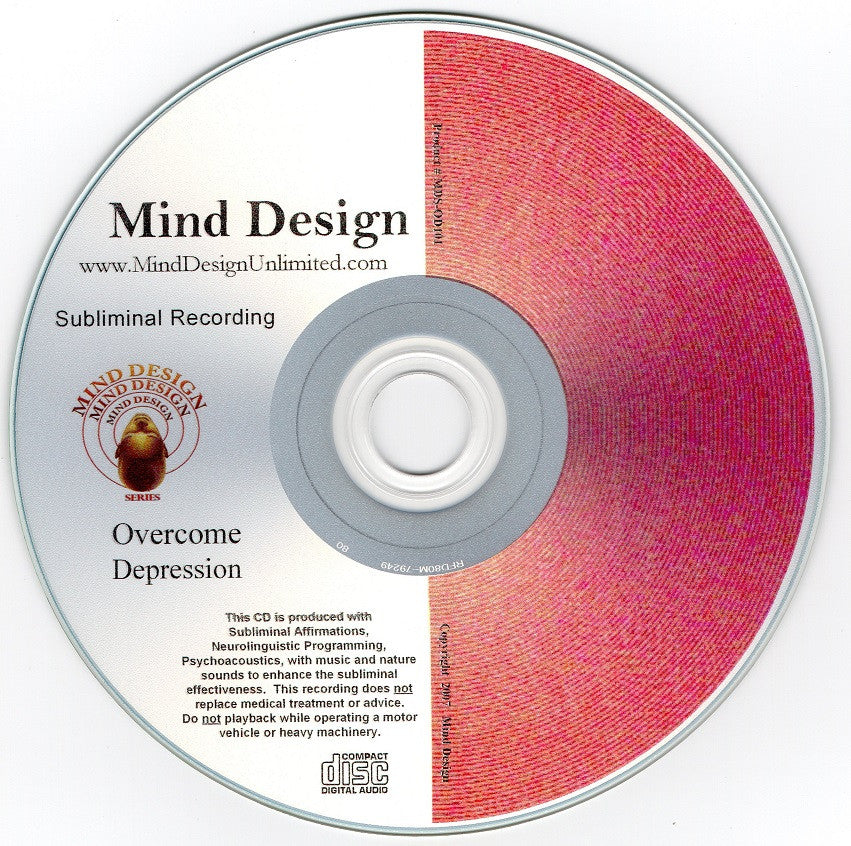 Mind Design Unlimited Online Store
Overcome Depression - Subliminal Audio Program - Beat Depression Naturally! Simply Relax and Listen.
Overcome Depression
Subliminal Audio Program
Overcome the Pessimism and Anxiety you feel, Naturally. 


Have you been feeling depressed lately?
Are you overwhelmed by personal issues and stress currently?
Do you feel hopeless and confused about your current situation or the future?
Does your depression and anxiety leave you without energy and motivation?
If so, this Audio Program is for YOU!!?
__________________________________________
Your negative feelings, thoughts and emotions come from thinking negatively as well as the programming you received as a child and still, as an adult.  We can often become our own worse enemy!!  We must reprogram our mind for success, happiness and optimism.
Feeling depressed, helpless and miserable is really just a state-of-mind.  But yet, it can consume us and drain all of our energy and motivation.  What is your time worth to you??
Without positively programming your mind, you cannot properly change your mindset and thought process.  If you were taught to worry, fear, doubt or feel guilt and shame, then you are a victim of your own negative thought processes.  It is time to change those thought processes.  And, now you have the ability to do so!!
Do not underestimate the power of your conscious and subconscious mind.  It controls every aspect of your life.  All of your thoughts and programming is a direct result of your current life standards and choices.  it will only improve or get worse, depending on how you direct it.  Help your life by helping yourself. 
If you want to make positive life changes, you must take action!!  No one can do this for you.  It is up to you to change and develop your positive life programming.  You CAN make a difference, starting today.
__________________________________________________________________
How does it help?

Simply by listening to this Audio Program while driving, sleeping, working or relaxing your conscious AND subconscious mind soaks in the powerful  suggestions that will begin transforming you into a healthier, more optimistic YOU! 
This Subliminal Audio Program was produced and created using the most sophisticated NeuroLinguistic Programming (NLP) and Digital Recording and Processing available today.  You hear no audible affirmation.  But, the subliminal affirmations and psychoacoustics played are specifically designed to create and enhance a Positive and Optimistic outlook on life.  You can allow this recording to play over and over again while you drive, sleep, relax or work.
Certified Clinical Hypnotherapist, Christian Flint uses his unique expertise as a sound engineer and the knowledge he acquired through his Masters Degree in Mental Health Counseling to create this powerful CD for your benefit.
_________________________________________________________________________________________
Product Sample

Listen to an Audio Sample of one of our Subliminals Below.
This sample is from "Positive Attitude". 
Your Music / Audio Format will Sound Very Similar.
Below are some feedback from users of this Audio Program.
"I use this EVERYDAY!!  This is GREAT!!  I feel better when I use this product. 
It is a very valuable resource in my life." 
Ann-Marie Cabot  - MI
 *     *     *
"I use the subliminal Positive Attitude recording when I am sleeping.  I use this subliminal Overcome Depression recording during the day.  I can see the difference in my life when I forget to use them.  I can honestly say they have improved my life dramatically in so many ways."
 *     *     *
"My wife and I just bought this product.  We listen to it throughout the day.  We both feel better and more positive when we listen to it.  I really enjoy this."
Andrew and Kitty Thomas  -  OH
 *     *     *
Matt Sheldon  -  HI
*     *     *
__________________________________________________________________________________________________________________
An Objective and Positive Attitude is vital for your personal success and happiness as well as for a healthy body.  Studies have shown that without optimism and a positive attitude, your body's immunity decreases leaving you more susceptible to illness and disease. Your body requires healthy self-esteem and confidence in order to adequately function. 
Without appropriate optimism and confidence, work performance slows, attention span decreases.  You are more prone to accidents and you suffer from lack of joy and happiness in your life.  A Positive and Healthy Attitude is vital for healthy, daily functioning for your personal and professional life!
Your subconscious mind directs your daily life and routine. 
Learn to use that power simply by listening.
This Audio Program was developed as part of the Mind Design Unlimited Series for Best Physical Health, Exercise and Body Immunity.  This Enhanced Audio Program relaxes your mind through psychoacoustics and subliminal affirmations.  With this Audio Program, you will find your bland routine and negative thought patterns begin to change. 
It is important to understand that EVERYTHING about your thought process, life and routine BEGIN with your mind.  Before, to achieve proper and healthy optimism, to relax or to stop your mind from racing negatively, etc... ALL took a conscious effort on your part.  We help you by cutting out the need for that "willpower".  We create neuromotor pathways that change your cycles of negativity and anxiety.  While listening to this CD, you will find yourself becoming more optimistic with peaceful and relaxing sleep, only to wake up feeling rested, clear headed and optimistic!  Don't believe us?  ...Try it!  
These new neuromotor pathways are the natural occurrence
that begins with every new change in your life.
Allow this Powerful Audio Program to work for you NOW!
This Audio Program running time is approximately one hour.
(* Note:  This CD has been used very successfully by those in the field of sales!  It has been highly recommended by companies and sales professional that need to maintain their focus and confidence to be consistent and successful in their areas of expertise.)
This Audio Program can be used by everyone! **
** Disclaimer:  If you have serious depression or thoughts of suicide, you may have a diagnosable medical or mental condition that needs professional attention.  Please see a Medical Doctor to possibly diagnose any mental, emotional or physical problems that may require professional intervention and/or medication.  In most cases, this CD can still be used in conjunction with medications and professional treatment.  Consult your physician if you have any questions prior to using this CD in conjunction with any medications or treatment you may have been prescribed.  This CD is regularly recommended by Health Care Professionals as an adjunct to medical and/or psychological treatment.
---
More from this collection