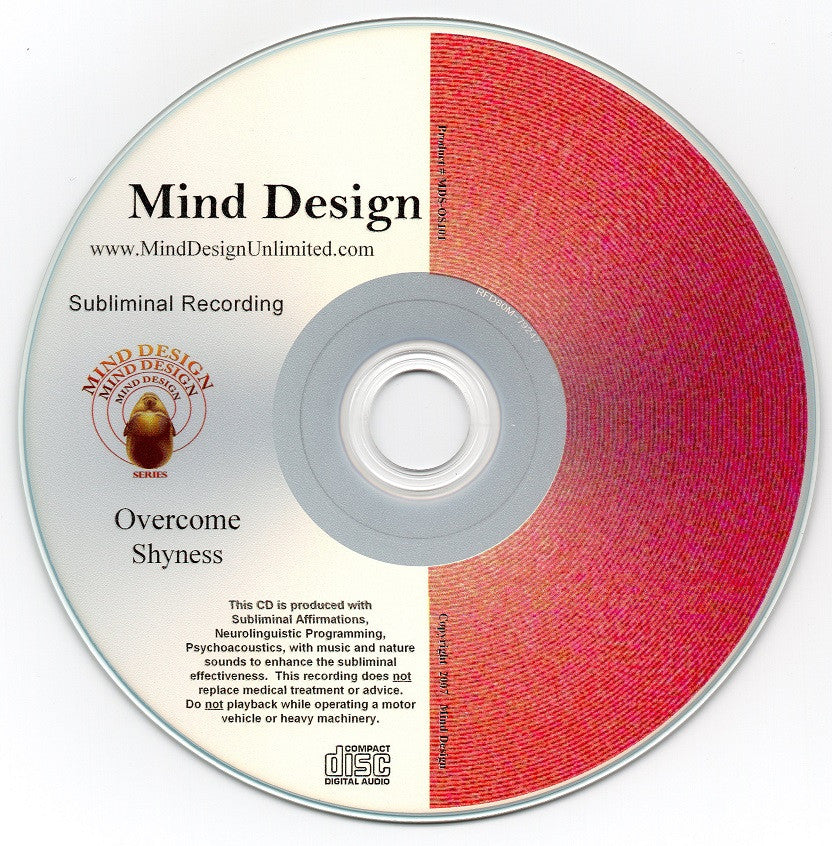 Mind Design Unlimited Online Store
Overcome Shyness - Subliminal Audio Program - Relieve the Symptoms of Social Anxiety Disorder and Shyness
Overcome Shyness
Subliminal Audio Program
Are you shy about meeting new people?
Do you sometimes avoid social situations? 
Are you nervous about meeting new people?
Do you sometimes withhold thoughts and feelings from others?
Do you have trouble looking others in the eye when greeting them?
Does you have nervous physical reactions around others
(i.e. sweaty palms, blushing, clearing your throat a lot, etc...) ?
Are you afraid of what others may think of you?
...Let this CD help you now!
How?
...Simply listen to this Audio Program while sleeping, working or playing. Meanwhile, your subconscious mind soaks in the powerful subliminal suggestions that will begin transforming you into a healthier, more Confident Person! 
This Subliminal Audio Program was produced and created using the most sophisticated digital recording and processing available today.  The background provides ocean waves and beautiful synthesizer music to enhance your relaxation. You hear no audible words or voices (but they are there).  You can allow this recording to play over and over again while you sleep, relax or prepare for sleep.
Certified Clinical Hypnotherapist, Christian Flint uses his unique expertise as a sound engineer and musician and the knowledge he acquired through his Masters Degree in Mental Health Counseling to create this powerful CD for your benefit.
_________________________________________________________________________________________
Product Sample

Listen to an Audio Sample of one of our Subliminals Below.
This sample is from "Positive Attitude". 
Your Music / Audio Format will Sound Very Similar.
Below are some of the feedback for this particular product:
"This is one of the best audio programs ever made!  I love this!  I was really shy with people, especially new people.  Now, I feel more confident and ask questions.  People tell me they do not even recognize me anymore."
Steve M.
CA
*     *     *
"I used to laugh nervously and uncontrollably when around new people.  I felt like a child.  I have had psychotherapy and medication.  But, this CD really helped me more than anything else.  I can now actually focus on what other people are saying and join in the conversation. Thank you so much!"
Patricia K.
Iowa
 *     *     *

"I have always been shy with people, mostly women.  I now am able to start up conversations with women.  I think I am doing a lot better."
Marcus B.
NY
 *     *     *

"This CD really helps.  I recommend it for my students.  As a High School Guidance Counselor, I used this to overcome some of my problems with interactions with parents and more aggressive type people that I used to avoid.  Now, I feel more comfortable around most all personality types.  I believe most anyone with a nervous disorder or shyness problem can benefit  from this."
Amy S.
MN
 *  *  *
__________________________________________________________________________________________________________________
Overcoming Shyness is vital for your personal success and happiness as well as for a healthy mental attitude.  Studies show that confident people have more success in life and tend to be happier overall. Being more Confident and Assertive enables a person to express themselves easier and create stronger bonds in communication and relationships. 

Without appropriate optimism, assertiveness and confidence, work performance slows and attention span decreases.  You are more prone to depression and you suffer from lack of joy and happiness in your life.  An Assertive, Confident and Optimistic Attitude is vital for healthy, daily functioning for your personal and professional life!
Your subconscious mind directs your daily life and routine. 
Learn to use that power simply by listening.
>  Do NOT use this Audio Program while driving  <
or where alertness is required!
This Audio Program was developed as part of the Mind Design Unlimited Subliminal Series.  This enhanced Audio Program relaxes your mind through psychoacoustics and subliminal affirmations.  With this CD, you will find your negative routine and thought patterns begin to change. 
It is important to understand that EVERYTHING about your thought process, life and routine BEGIN with your mind.  Before, to achieve proper and healthy optimism, to relax or to stop your mind from racing negatively, etc... ALL took a conscious effort on your part.  We help you by cutting out the need for that "willpower".  We create neuromotor pathways that change your cycles of negativity and anxiety.  While listening to this CD, you will find yourself becoming more assertive and optimistic with peaceful and relaxing sleep, only to wake up feeling rested, clear headed and CONFIDENT!  Don't believe us?  ...Try it!  
These new neuromotor pathways are the natural occurrence that begins with every new change in your life.
Allow this powerful Audio Program to work for you NOW!
This Subliminal Audio Program running time is approximately one hour.
(* Note:  This Audio Program has been used very successfully by those in the field of sales!  It has been highly recommended by companies and sales professional that need to maintain their focus and confidence to be consistent and successful in their areas of expertise.)
This Audio Program can be used by everyone! **
(** Disclaimer:  If you have serious depression or thoughts of suicide, you may have a diagnosable medical or mental condition that needs professional attention.  Please see a Medical Doctor to possibly diagnose any mental, emotional or physical problems that may require professional intervention and/or medication.  In most cases, this CD can still be used in conjunction with medications and professional treatment.  Consult your physician if you have any questions prior to using this CD in conjunction with any medications or treatment you may have been prescribed. )
---
More from this collection