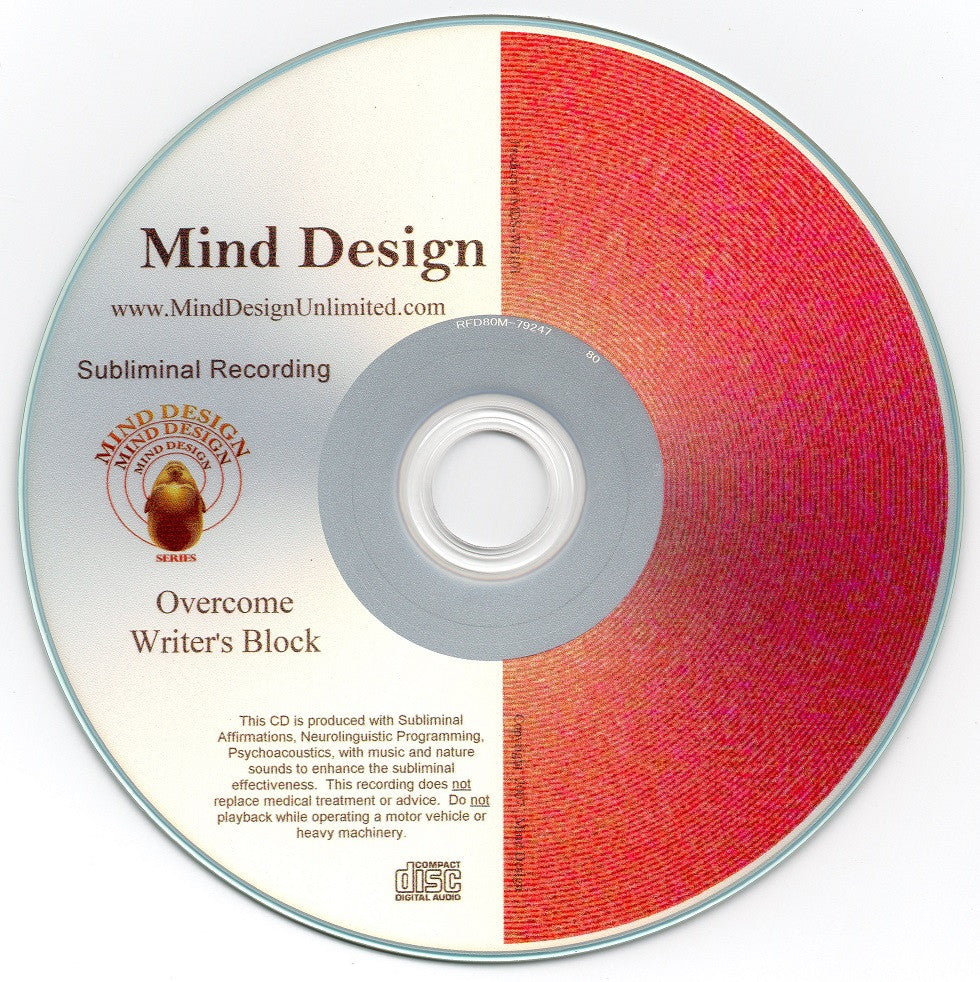 Mind Design Unlimited Online Store
Overcome Writer's Block - Subliminal Audio Program - Rid Yourself of Writer's Block Naturally
Overcome Writers Block
Subliminal Audio Program
Having trouble coming up with new ideas ?
Are you frustrated because your ideas are not always good enough?
Are you struggling with putting your ideas on paper?
Are you drawing a blank when it is time to write?
Are you running out of ideas??
Have you been depressed or frustrated because you are procrastinating about writing a paper or content?
...Let this Audio Program help you now!
(This Audio Program is Excellent for Students, Bloggers and Professional Writers)
How?

Simply listen to this Audio Program while sleeping, working or playing. Meanwhile, your subconscious mind soaks in the powerful subliminal suggestions that will begin stimulating your creative ideas and the writing process! 
This Subliminal Audio Program was produced and created using the most sophisticated digital recording and processing available today.  The background provides ocean waves and beautiful synthesizer music to enhance your relaxation. You hear no audible words or voices (but they are there).  You can allow this recording to play over and over again while you sleep, relax or prepare for sleep.
Certified Clinical Hypnotherapist, Christian Flint uses his unique expertise as a sound engineer and musician and the knowledge he acquired through his Masters Degree in Mental Health Counseling to create this powerful Audio Program for your benefit.
_________________________________________________________________________________________
Product Sample

Listen to an Audio Sample of one of our Subliminals Below.
This sample is from "Positive Attitude". 
Your Music / Audio Format will Sound Very Similar. 
Below are some of the feedback for this particular product:
"This is my favorite CD to listen to when I need to relax and be creative.  It works well for me."
Terry R.
CA
*     *     *
"I am a professional writer with deadlines.  This CD has made an impact not only on the quality of my work but improving upon my ideas and content.  I highly recommend this CD for those serious about writing."
Parker M.
Escondido, CA
 *     *     *

"When I was in college last year, I used this CD to help me come up with ideas. Also, I am slow about writing and typing.  This seemed to inspire me to write and to finish on time for my classes.  I used it mostly when I was sleeping."
Stacy G.
GA
*     *     *
"I teach Creative Writing to Middle School Students.  I play this Audio CD during class time while the students write.  I notice that they are more focused on their work.  I see less of them staring into space wondering what to write.  When I do not play it, they are quick to request it.  So, I believe the music and sounds on this particular CD are well received as well."
Martika K.
Canada
 *  *  *
________________________________________________________________


This Subliminal Audio Program is extremely effective in stimulating various areas of the brain responsible for imagination as well as creativity.  Also, it is excellent for helping you focus and relax while writing and getting your ideas and content out.   The various components of brain functioning need stimulation and blood flow to capture ideas and creative content.  Most exceptional writers use some type of catalyst to get their imagination flowing.  

When writing, our brain can often get stuck.  Sometimes, we will find that we even need to "be in the right mood" or in the right frame of mind before we can adequately write.  This Audio Program helps put you in that frame of mind and inspires and motivates you to write out the information necessary for your work or school papers.  

This powerful Audio Program is also great to use while relaxing and pondering new ideas or where you need to organize your thoughts for content with your upcoming writing.  This Audio Program also helps with memory function so that you can remember your ideas when you are away from a computer and need to bring them out when you have access to a word processor.  Also, it helps you write when you are stressed and frustrated or held to a deadline.  This Audio Program helps you relax and focus so that every word just seems to flow perfectly into place.   
Your subconscious mind directs your daily life and routine. 
Learn to use that power simply by listening.
>  Do NOT use this Audio Program while driving  <
or where alertness is required!
This Audio Program was developed as part of the Mind Design Unlimited Subliminal Series.  This enhanced Audio Program relaxes your mind through psychoacoustics and subliminal affirmations.  With this Audio Program, you will find your negative routine and thought patterns begin to change. 
It is important to understand that EVERYTHING about your thought process, life and routine BEGIN with your mind.  Before, to achieve proper and healthy optimism, to relax or to stop your mind from racing negatively, etc... ALL took a conscious effort on your part.  We help you by cutting out the need for that "willpower".  We create neuromotor pathways that change your cycles of negativity and anxiety.  While listening to this Audio Program, you will find yourself becoming more assertive and productive with your writing process.  You will also achieve peaceful and relaxing sleep, only to wake up feeling rested, clear headed and MORE Creatively Productive with your writing process.  Don't believe us?  ...Try it!  
These new neuromotor pathways are the natural occurrence that begins with every new change in your life.
Allow this Powerful Audio Program to work for you NOW!
This Subliminal Audio Program running time is approximately one hour.
(* Note:  This Subliminal Audio Program has been used very successfully by students.  it can help inspire the imagination for creative writing.  Also, for term papers and writing assignments, this Audio Program is an excellent resource for someone who needs to organize their thoughts and help them write them out clearly.  Professional writers benefit by writing more efficiently, expanding their vocabulary and bringing forth their ideas with less effort than before.)
All Ages!!  This Audio Program can be used by everyone! **
Disclaimer:  This Audio Program does not replace medical or psychological advice or treatment.  Use at your own risk.
---
More from this collection