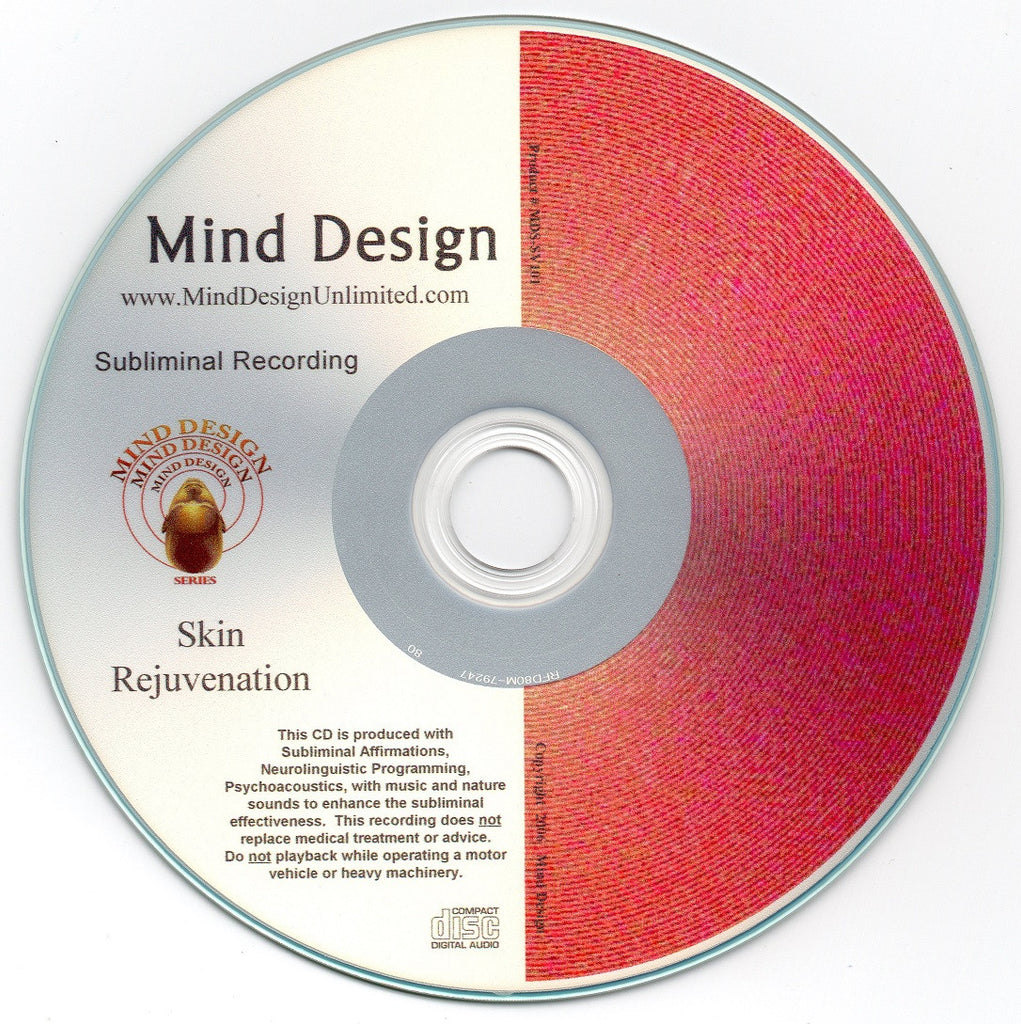 Mind Design Unlimited Online Store
Skin Rejuvenation - Subliminal Audio Program - Repair and Rejuvenate Skin Naturally
Skin Rejuvenation
Subliminal Audio Program
Great for bringing in Beautiful and Healthy Skin.
Are you suffering from dry, flaky skin?
Is your skin blemished with acne?
Are you suffering from eczema, psoriasis, rosacea or dermatitis??
Do you have age spots, sun spots or just aging skin??
Then this Audio Program is for YOU!!

Studies show that your skin can be helped and healed with the right support and preventative measures.  Keeping your skin healthy requires your attention and care.  Furthermore, your mind can support healthy regeneration of cells and immune enhancement to rebuild younger looking skin all over your body.
Most people would never believe that a Subliminal Audio Program could assist in healing or helping skin conditions, but it most certainly can.  The truth is, your subconscious mind runs everything within your body, which includes all of your organs.  Since your skin is the largest organ of your body, it is very suggestible.  Studies also show that stress is one of the highest contributors to skin problems including aging, dryness, itching, overall dehydration, slow healing, etc.  So, as a matter of fact, subliminal audio can lessen stress and greatly affect your subconscious mind to assist you with better skin health.  You need mental support to also keep your skin clean, hydrated and or even basic reminders to avoid too much sun exposure, poor food choices, etc.  
Listen to this Audio Program while resting, working or playing.  Meanwhile, your subconscious mind will soak in the powerful subliminal suggestions that will begin transforming your appearance. 
Your skin will begin to look more vibrant and healthy within a few days of listening.  Use this Audio Program as directed and watch your skin heal and become healthier!  You will be growing and replenishing new skin even while you sleep.   But be patient with some skin disorders.  Certain skin disorders take awhile to build up immunity to things such as acne or localized dryness such as psoriasis and dandruff.  This powerful audio program will assist your skin in regenerating healthy new skin.  In a matter of time, your skin can look younger, healthier and much more vibrant as when you were younger.  This Subliminal Audio Program supports your whole body and lifestyle.  It supports a healthier diet, more hydration (drinking healthy water and liquids), promotes healthier sleep, and bolsters your immune system.  
This Subliminal Audio Program was produced and created using the most sophisticated digital recording and processing available today.  The background provides ocean waves and beautiful synthesizer music to enhance your relaxation. Play this recording over and over again while you sleep, work or relax.
Skin Conditions that can be helped while using this Audio Program
(but not limited too)
Acne  -  Rosacea  -  Eczema  -  Dermatitis  -  Dandruff
Psoriasis  -  Dermatosis  -  Age Spots  -  Sun Damaged
Unusual Dryness  -  Itchy or Flaky Skin  -  Scars  -  Simple Rash

Allow this Powerful Audio Program to work for you NOW!
Product Sample

Listen to an Audio Sample of one of our Subliminals Below.
This sample is from "Positive Attitude". 
Your Music / Audio Format will Sound Very Similar. 
Below are reports from buyers who have used this Audio Program

*      *      *

After only 2 days, I see a difference in my skin tone.  I am not needing as much lotion.  And, my hands and feet feel less dry and coarse.  It must be the CD."
*

"I swear, I woke up this morning and two of my age spots have almost disappeared."
*

"I have had dry and rough skin all of my life.  I am noticing a difference in my skin health in only two weeks since I began listening.  I am anxious for more results, but I just wanted to let you know."
*

"After my 3rd child I was having so many skin problems.  Now using this Cd, I am finding my skin problems are diminishing.  I also am drinking more water.  I think that helps too."
*
"One of my neighbors just told me that I look ten years younger.  The only thing I have been doing differently is using this CD.  So, maybe this really does work. "

*     *     *

Caution:  Do NOT listen to this Audio Program while driving
or when alertness is important!

To help fight the signs of aging, this Audio Program works great in conjunction with Mind Design Unlimited's
Hair Loss Regeneration
Lower Blood Pressure
Exercise Motivation and

Best Physical Health Subliminal CDs.
Running time is approximately one hour.
Disclaimer:  This Audio Program is not a replacement for medical treatment or advice.  Please consult your physician for any ongoing skin issues / problems.  This Audio Program can also be used as a great adjunctive support to various severe or ongoing treatment programs. Always consult your physician concerning any skin problems or unique changes in skin health. 
---
More from this collection