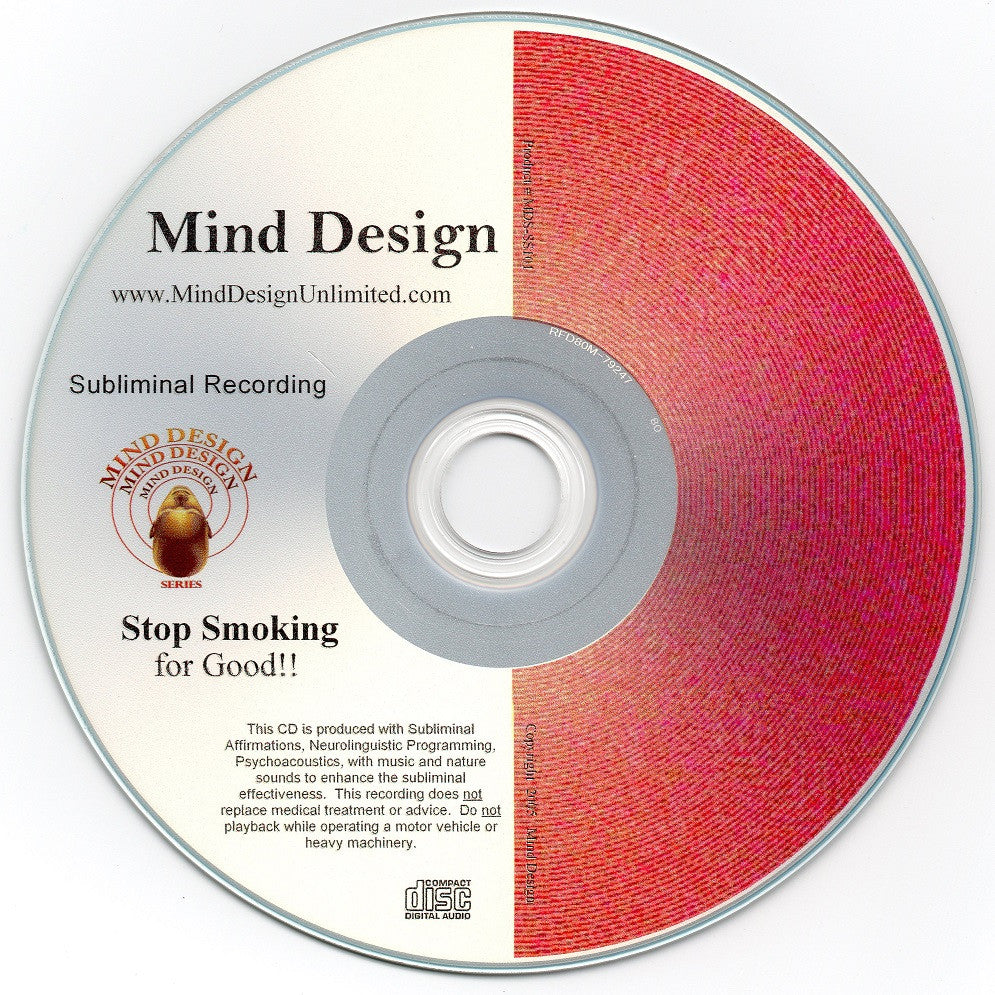 Mind Design Unlimited Online Store
Stop Smoking - Subliminal Audio Program - Break the Smoking Addiction Naturally
Stop Smoking
Subliminal Audio Program
Mind Design Unlimited has one of the most effective methods on the market to Stop Smoking immediately with no side effects or anxiety!!

If you are serious about kicking the cigarette habit,
this Audio Program will work for you!!
Better than the Patch!
Better than Nicotine Gum!
Better than the Nicotine Shot!
...How?

 
...Simply listening to this Subliminal Audio Program is an amazing and effective way to stop smoking.  Kick the smoking habit NOW!  Play it in the background while you work, play, relax or sleep.  Beautiful music and ocean waves are the only audible sounds you hear while powerful affirmations and hypnotic suggestions soak into your subconscious mind.
You will notice immediate results.  Within a day or so of use, you will feel your nicotine cravings subside.  Your desire for cigarettes will disappear.  You WILL kick the smoking habit using this Audio Program as recommended. 
Think about it: The price of this Audio Program is about the cost of three packs of cigarettes.  Imagine the money you will save once you have kicked your habit for good! 

Certified Clinical Hypnotherapist, Christian Flint uses his unique expertise as a sound engineer and musician and the knowledge he acquired through his Masters Degree in Mental Health Counseling to create this powerful Audio Program for your benefit!
The Mind Design Unlimited Subliminal Series are indisputably
the most powerful subliminal products available. 
 Product Sample

Listen to an Audio Sample of one of our Subliminals Below.
This sample is from "Positive Attitude". 
Your Music / Audio Format will Sound Very Similar.
Mind Design Unlimited uses the most advanced method of audio production and recording to create these powerful products.  Join the other successful users and kick the SMOKING HABIT TODAY! 
 Recent television shows have shown that hypnosis (the basis of positive and subliminal affirmations) is the most effective way to permanently kick the smoking habit.  Habits form in your subconscious.  So, to properly undo a habit, you need to go directly to the source of where your desire and cravings lay--the subconscious.  Subliminals are powerful and effective.  Hundreds of affirmations are sub-planted into your subconscious while you listen to this audio program.  Meanwhile, you will begin to lose the cravings and desire for cigarettes. 
This Audio Program has worked for individuals to permanently kick the habit in one day.  The average user begins to see the amazing effects after listening a few times.  Those around you will not be aware of what you are listening to.  The music and ocean waves are the only audible sounds playing through your speakers.  Powerful affirmations come through just beneath the audible threshold of human hearing (but they are there!).  You can rest, relax or leisurely work while this audio Audio Program plays.  It is designed to reduce your stress, anxiety and cravings immediately.  Download this Audio Program today and be amazed!
Do NOT use this Audio Program while driving or where alertness is required.
_________________________________________________________________________
"Great price…. Works too!!!"
Tom M.  - Gaston, SC
"Fast shipping Good product. Very pleased"
Kris W. – Meridian, ID
"Great product...Fast shipping...will buy again...A+++"
Thomas J. – Tamarac, FL
"After 40 years of smoking & not really wanting to quit, this CD, along with some other assistance techniques, helped me to quit & stay off smoking. When I start craving cigs again I listen to this CD & the cravings go away. It has been 2 months now. I have tried other company's subliminal CD's & they did not assist me at all. I have purchased a number of Mind Design CD's & have been very happy with those I have tried .... I fall asleep to them & am consistent with using one of them over a period of time but I get results immediately. I am very impressed."
Sky W. – Delray, FL
"Excellent product, smooth transaction!! Would buy from again! AAA+++"
Eleanor M. B.   -  Green Bay, WI
"Seems to be working already. Will buy more."
Judith B.  -   Denver, CO
---
More from this collection