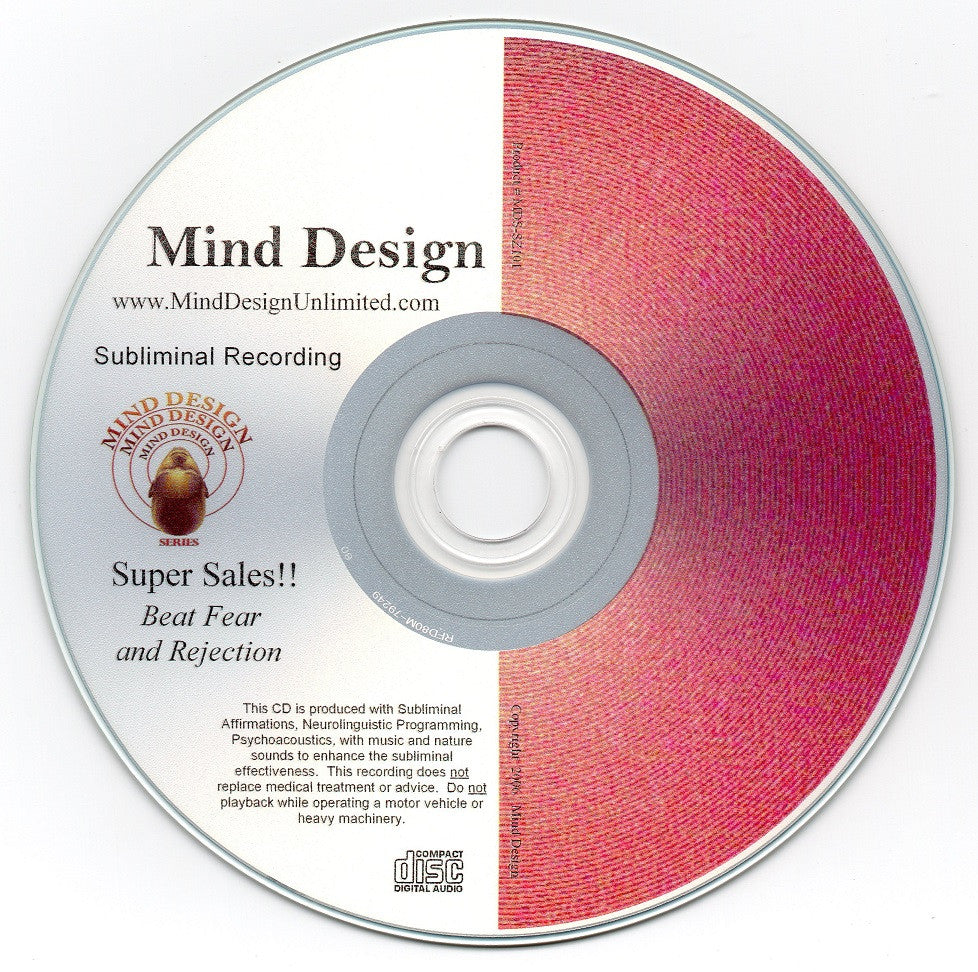 Mind Design Unlimited Online Store
Super Sales!! - Subliminal Audio Program - Improve Your Sales Naturally
Super Sales!!
Subliminal Audio Program
Have you lost your confidence with sales recently?

Are your sales not what they used to be?

Have you lost your motivation to sale?

Suffering from too much rejection recently?

Feel tired and frustrated with sales right now?
This Subliminal Audio Program is Incredibly Effective
for Building Your Sales and Confidence. 
Listen while resting, working or playing.  Meanwhile, your subconscious mind will soak in the powerful subliminal suggestions that will begin transforming you into a "Sales Genius!" This subliminal Audio Program was produced and created using the most sophisticated digital recording and processing available today.  Soothing sounds of ocean waves and beautiful synthesizer music combine to enhance your relaxation.  Play this recording over and over again while you sleep.  Your sales will begin to improve almost immediately!
This program is great for increasing your memory, concentration and confidence as well.  You will feel more confident about selling and building your sales network.  If you already have a good sales record, this is a great enhancement toward acquiring even more sales and confidence.  If you have fallen into a rut with sales (Sales Burnout), this powerful audio program will assist you in getting your game back and to re-energize your Sales, Confidence & Personal Charisma. 
But, you must choose to make the change!  You must take the first step toward success... NeuroLinguistic Programming (NLP) is the BEST WAY to program your subconscious mind to empower you to increase your sales, your success and your financial abundance.  NLP is combined with subliminal messages that will GREATLY enhance your subconscious attunement.   This audio program is the fastest, most effective way to improve your sales volume.
Ever watch a great Sales Person?  People and money seem drawn to them.  The look on their face is ALWAYS of confidence and security within their delivery and ability to close the deal.  They have worked to acquire that "sales intuition."  You can acquire that intuition also.  EVERYONE has the ability to acquire wealth and abundance.  Attune your body and mind to this unique empowerment and watch the incredible changes begin!
* Keep going with enthusiasm even when turned down time and time again!
* Beat Rejection and Close Every Sale!
* Ever wonder how the rich keep getting richer?
* Ever wonder how it seems like some people are just "Lucky" with sales and money?
* Have you ever thought: If I only made more sales, I could make my money work for me?
____________________________
Well there IS a Secret for Selling!
Change the way you THINK about Selling, Money and Wealth and begin to ATTRACT the Sales and Money YOU WANT!
 Product Sample

Listen to an Audio Sample of one of our Subliminals Below.
This sample is from "Positive Attitude". 
Your Music / Audio Format will Sound Very Similar. 
Great sales people realize that it is all about how you think about selling that makes you a gifted salesperson.  Wealth and money is often a game of numbers and they rarely take it personally. The greatest salespeople sell themselves first and their product and service second. Realize that this great confidence in sales success is generated by your subconscious.  If you believe and know that sales (confidence, money and wealth) will come to you, it will change how others interact with you.  It will change how you spend your time. It changes how and where you put forth effort in your daily life.
This is the most effective tool you could ever buy to turn your sales around.  Regain that confidence and momentum you once had.  Get that feeling again of making the sale and closing the deal.  You still have it inside of you.  Let it all happen once again.  Let this Audio Program help you adjust to success you have worked for and deserve. 
Buy Now!!
and
Get started TODAY!!
Below are some comments received from those who have used this product.
*  *  *
"After 5 months of poor sales, I got my "mojo" back in action!!  This CD really works.  Very effective.  I listen to it constantly. It really does boost my confidence and my energy level.  Even with rejection, I get right back on the phone.  You gotta make the contacts to get the sales.  This CD keeps me cranking out the calls.  Relentless contacts equals more sales.  Its like magic."
"Seriously, if I only had this CD 3 months ago.  What a difference this makes.  I got this as a gift. From the first day I used it I noticed differences.  I am now a believer in subliminal CDs."
"I am in new car sales.  We have been in a sales slump for about 4 years now.  I use to sell on average 6 new cars a week minimum.  Now, with this recession we are lucky to close one deal per week per saleman.  In the first week of using this CD, I sold three new cars!!  Count 'em, THREE!!  My boss asked me what I have done differently.  The following week 4 cars!  Now, he has me playing the CD through our intercom system for everyone.  This thing works!!"
"I am a stay at home mom.  I work from home now, after 8 years as a secretary.  I started my home based business but I had never done sales before in my life.  Sales was my weakest point.  I spent about two weeks listening to this CD before I attempted selling again.  My first attempts were a disaster.  I had lost my confidence.  Then after getting this CD, I decided to try it again.  My first two phone calls, I made sales.  I got off the phone and could not believe it.  I was afraid of making the third call, because I felt that my luck would only run out.  By the end of my first day, 8 phone calls and 5 were sales.  Now I do not mind selling at all.  This really helped me, not to mention my business income.  I will order the Charisma and Better Memory next.  Many Thanks."
*    *    *
>  Do NOT use this Audio Program while driving or where alertness is required.  <
Approximate running time of this Audio Program is 60 minutes. 
---
More from this collection