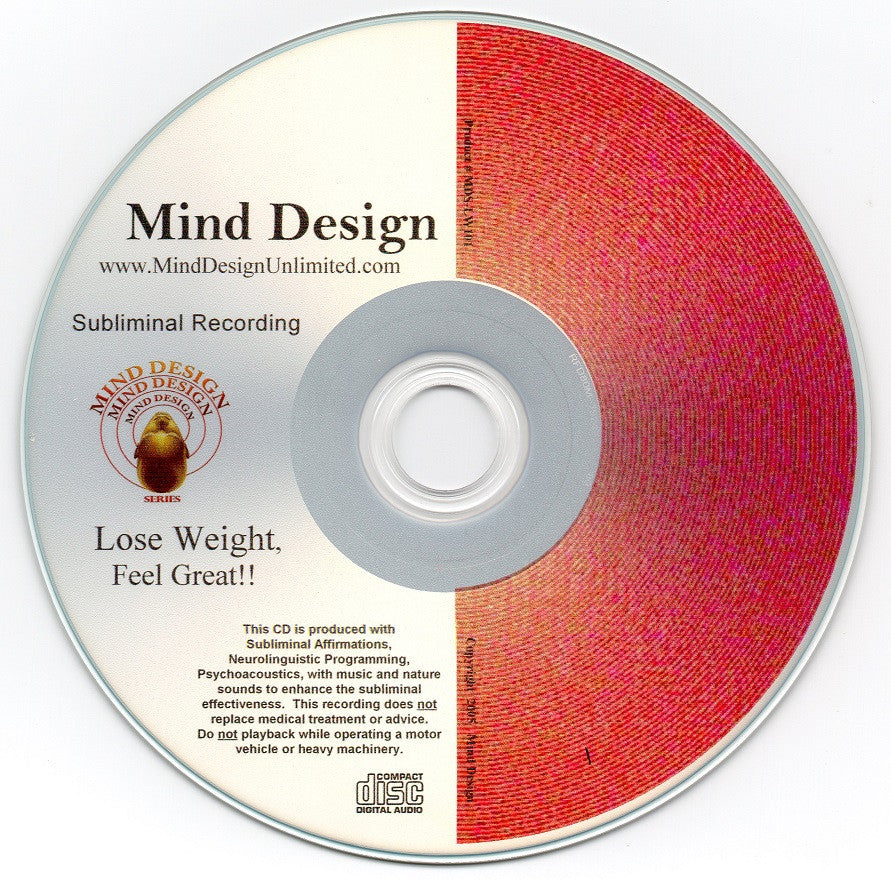 Mind Design Unlimited Online Store
Weight Loss - Subliminal Audio Program - Lose Weight Naturally
Weight Loss
Subliminal Audio Program
Would you like to lose weight without trying?
Are you trying to lose weight and nothing seems to help?
Have you lost weight before only to gain it right back?
Do you not have time to go to the gym or do the routine thing necessary for weight loss?
Do you need extra motivation to Lose Weight? 
Well, now you can achieve the Weight Loss you want!
This subliminal weight loss programming can be activated whether you are sleeping, working or relaxing — just as long as you are playing this Audio Program in the background.  Meanwhile, your subconscious mind soaks in the powerful subliminal suggestions that will begin transforming your figure into a healthier, slimmer YOU!  It is incredibly effective for losing weight and keeping it off! This Subliminal Audio Program was produced using the most sophisticated digital recording and processing available today. Soothing sounds of ocean waves and beautiful synthesizer music enhance your relaxation. You will hear no audible words or voices (but they are there).  Play this recording over and over again while you sleep, work or play. Your cravings for fattening, unhealthy foods will begin to decrease within a few days of use. You will feel motivated to exercise as well as to eat healthy foods.
Certified Clinical Hypnotherapist, Christian Flint uses his unique expertise as a sound engineer and musician and the knowledge he acquired through his Masters Degree in Mental Health Counseling to create this powerful Audio Program for you. Allow this Powerful Program to work for you NOW!
Product Sample

Listen to an Audio Sample of one of our Subliminals Below.
This sample is from "Positive Attitude". 
Your Music / Audio Format will Sound Very Similar. 
Sounds of soothing ocean waves and beautiful music enhance this incredibly effective audio CD. Subliminal messages are carefully embedded within the music and nature sounds. Hundreds of positive affirmations and Neurolinguistic Programming permeate the subconscious mind. Many clients notice immediate effects within a couple hours of use. Your cravings for fatty, sweet, and unhealthy foods will subside and disappear. Your body's metabolism will change. You will have renewed energy. And, your body will begin to tone down to a slimmer, more beautiful physique.
Do NOT use this CD while driving or where safety
or significant alertness is required!
Subliminal Audio Programs are fast becoming the new way
to modify your life and habits.
Simply by listening, your neuromotor pathways will be stimulated to change your patterns and behaviors. If your lifestyle and metabolism has slowed, then this CD will begin transforming your life after a couple of uses. Listening to it over and over will begin to stop your cravings and change your sedentary habits. You will be motivated to eat healthy, exercise, get more restful sleep, and to live a healthier way of life. Once your lifestyle begins to change and your unhealthy cravings have stopped, you will notice the weight beginning to disappear. Make Yo-Yo dieting a thing of the past!
Reprogramming your subconscious is the most effective way to stop cravings, lose weight and keep it off! Keep in mind that diets only work long enough for you to lose a few pounds. Then the tendency is to gain the weight right back. The problem isn't you. The problem is your lifestyle and eating habits. This Audio Program programs your subconscious to change these unhealthy habits.
You CAN change!!
_____________________________________
What previous buyers have said about this Audio Program!!
*  *  *
"Amazing!  After only two weeks I feel like a new person!  I have lost 7 pounds and I do not feel like I have been doing anything differently.  This has been so easy and effortless, I just can't believe it!" 
"My sister and I started our diets at the same time.  She is going to J**** C**** and I started listening to this Audio Subliminal everynight going to sleep.  8 weeks later, she has lost a total of 3 pounds.  I have lost 21 pounds and counting. Needless to say, she is online now looking to purchase this Weight Loss Subliminal.  I hope you have more left.  I just wanted to write and say Thanks."
"After my third child, I just could not seem to lose the weight.  After each pregnancy it seemed harder each time.  I began listening to this Audio Program and those extra pounds started coming off.  I felt motivated to exercise and eat more healthy foods.  I feel better and look better than I have in a long time.  This really works."
"I am not sure how it works, but I have lost 25 pounds so far and I am keeping it off.  I listen a few times a week.  The music and sounds are pleasant.  I am noticeably eating less.  I have more energy.  And, I am drinking water for the first time in my life and I seem to enjoy it.  If this is what the subliminals say then it works for me.  Great Help!!"
"182 pounds down to 133!!  I FEEL GREAT!! LIBERATED!!  ENERGIZED!!  HAPPY!!  You guys are WONDERFUL!!  Thanks for this!!  I am telling everyone about your company!!"
---
More from this collection