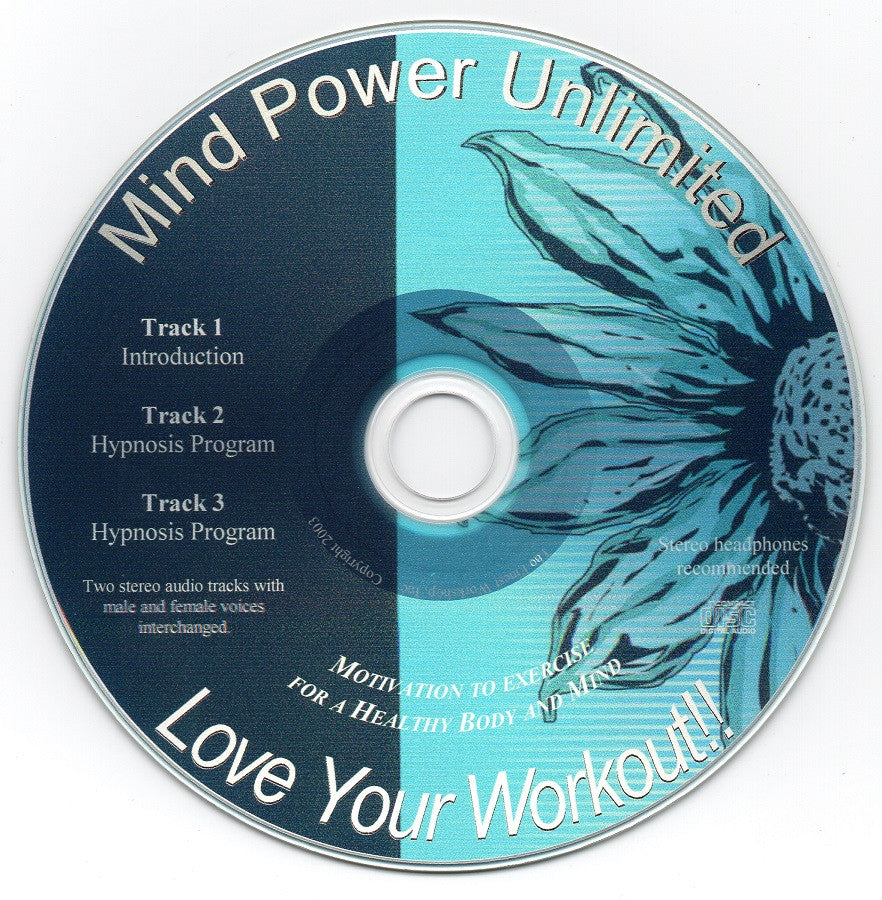 Mind Design Unlimited Online Store
Love Your Workout! / Exercise Motivation - Guided Imagery - Hypnosis Audio Program - Get Motivated, Stay Motivated!
Sale price
$14.95
Regular price
$24.95
Guided Imagery / Hypnosis
Exercise is still THE most effective way to lose weight and maintain a healthy figure. 
 If you feel too tired to exercise or just don't have the motivation, let this CD work for you.  After listening just a few times, you will find your motivation to exercise increase and your desire to get healthy and fit become a part of your daily life.  Your need to exercise becomes a powerful drive and time for exercise suddenly becomes easier to fit into your life.
If you want to get into shape and perhaps shed a few pounds in the meantime,
this Audio Program is for YOU!
You need to get FIT!!  Research has proven again and again, the best way to fight illness is to stay physically fit.  Prevention is common sense.  But, maintaining your focus on exercising regularly will keep your immune system strong and able to rebound quickly.  This is a small investment to help motivate you toward and insure physical fitness!!

Hypnosis is quickly becoming the fastest, safest and most effective way to modify your life and habits.  Simply listen while relaxing or sleeping and your metabolism will begin to change.  You will be able to envision your body mentally, and shape and sculpt it subconsciously.
Undo the negative patterns and reprogram your subconscious mind. 
The extra pounds will begin to disappear. 
Your life will change!
This Audio Program is a fantastic hypnosis journey guided by both male and female Certified Hypnotherapists.  The Guided Imagery and Psychoacoustics on this recording are incredibly effective.  Compare it to anything you may have heard or used in the past.  And, you will find this CD program to be one of the most powerful and well produced audio programs you have ever heard! 
What can be imagined, can be achieved!
Powerful guided imagery and hypnosis with soothing music and nature sounds walk you through an uplifting, motivating experience. Two stereo audio tracks with male and female Certified Hypnotherapists voices interchange to actively engage your subconscious to energize your mind and body.  Partnered with NLP (NeuroLinguistic Programming), you will be able to mentally envision yourself to increase your desire to get moving, get healthy and make getting fit a part of your daily life.
 Allow this powerful audio program to work for you! Visualizing your new body and mentally changing your lifestyle and ideas about exercise and working out will bring about the permanent changes you want in your life.
*  *  *
"Wonderful"

"great product, thanx"
"This is a fantastic seller...wonderful customer service and great products!"

"Great product - fast shipping - highly recommended seller"

"I received my product on Tuesday.  By the weekend, I had already mapped out a weekly plan and found time during my days to work out.  I love this product!  It has helped me gain clarity and focus and stay motivated to get in shape and stay in shape!!"
"..11 pounds in 15 days!!  Incredible!!"

*   *   *
This Audio CD program was recently digitally remastered and packaged for sale to the public.
Now the program is being distributed by Mind Design Unlimited.

Running time: approximately forty minutes.
---
More from this collection